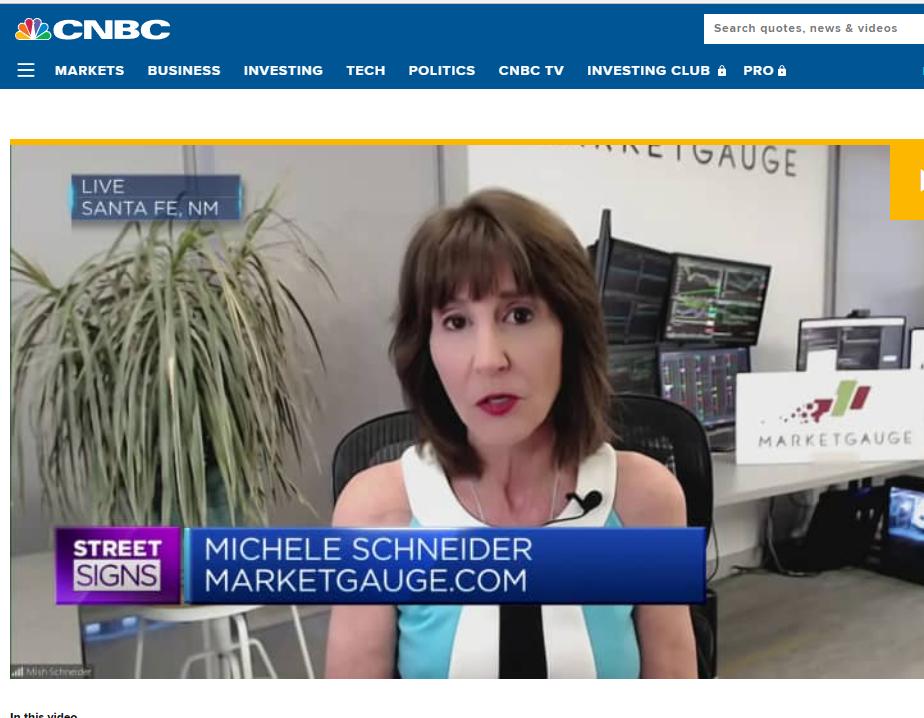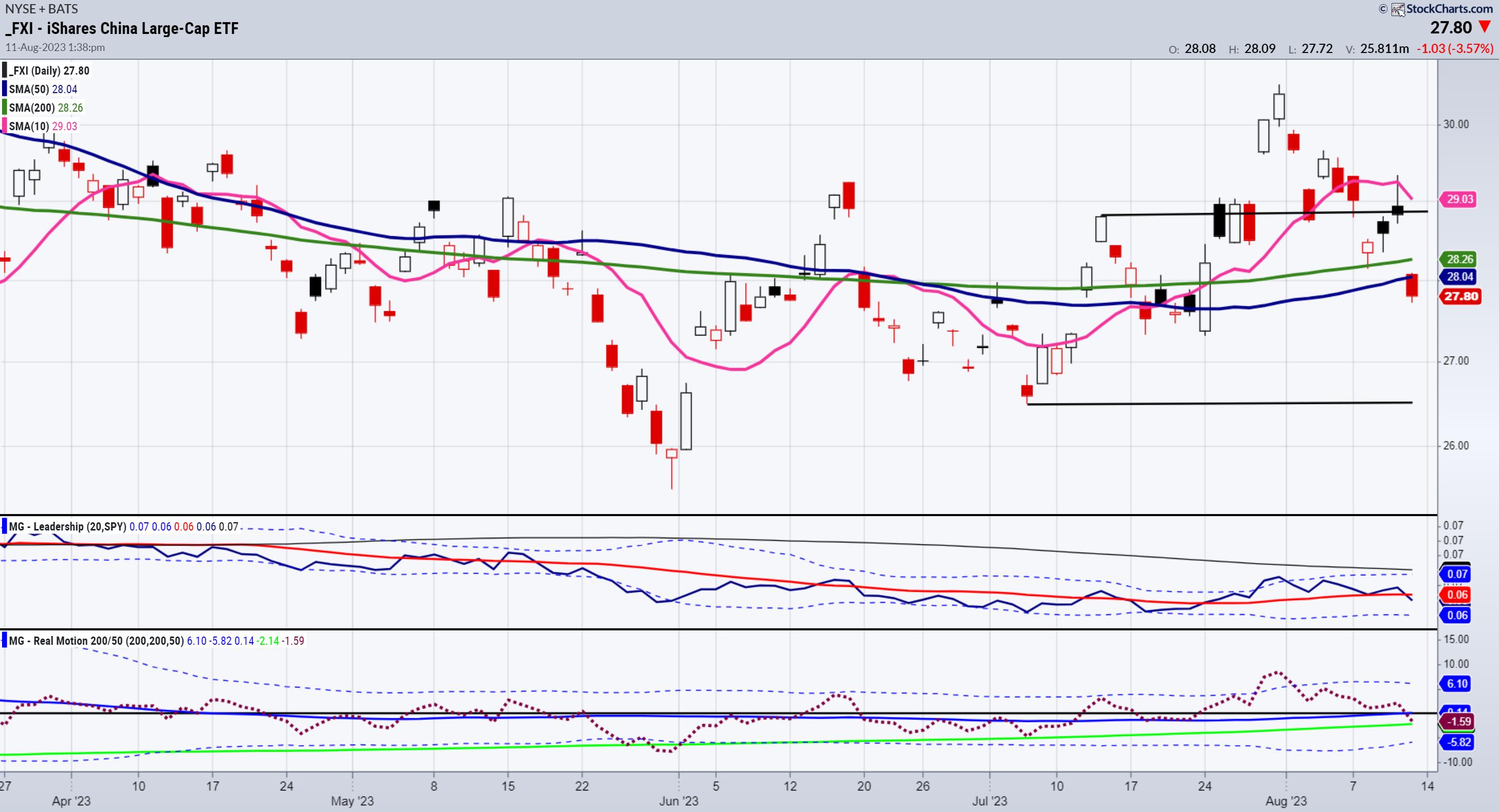 On August 10, I appeared on CNBC Asia to discuss Alibaba (BABA)'s surprise beat on earnings and China's weak economic data.
I began the segment reminding investors (and myself) that regardless of the news, opinions of analysts and the talking heads, price pays. It is with that in mind that I mention the following:
Alibaba reported sales up 14% along with their improved margins.
Biden banned US firms from investing in China, while China buys $5 billion chips from Nvidia (NVDA) for use in AI. These chips are designed in the US, made in Taiwan and South Korea.
China's deflationary numbers come vastly from falling pork prices and transportation costs; this will not necessarily impact global inflation.
The jobless rate of youth has risen to alarming numbers.
China can print money, thereby adding liquidity if necessary and most likely will do so.
The chart of FXI, also featured on The Final Bar with Dave Keller (watch below) indicates that the price, which failed the July 6-month calendar range high on Friday, fell into support. On Thursday, the price sat on the July 6-month Calendar range high. In the clips, we say that FXI must clear $29.00.
The Real Motion indicator, even with the drop in momentum, remains in a bullish divergence, as the moving averages are stacked with the 50 over the 200-DMA. The price chart that has yet to happen. The Leadership also switched from FXI outperforming the SPY to underperforming. Nonetheless, you can now watch momentum, leadership, calendar ranges and price as a guide for a potential investment.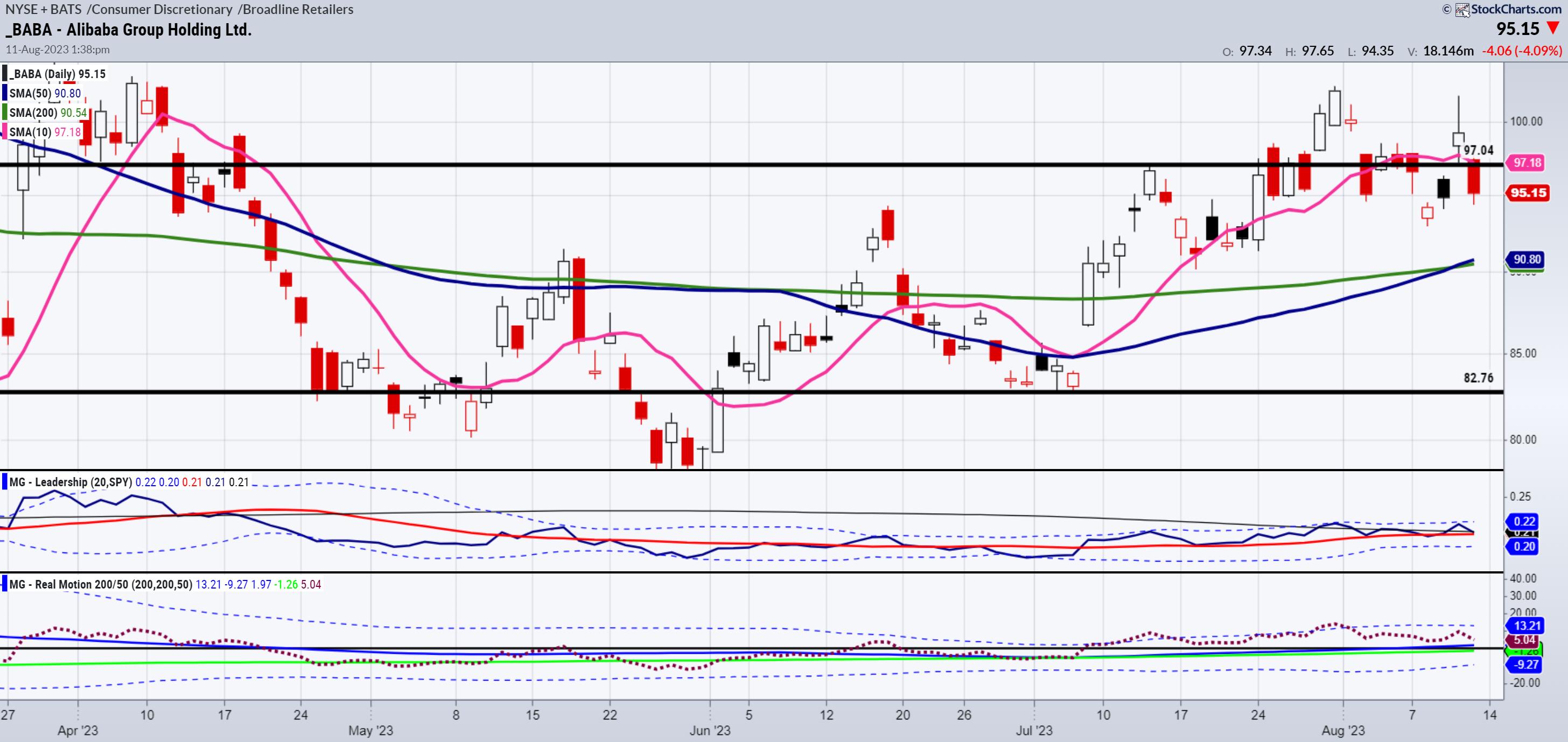 BABA did better than FXI on Friday. The phase is bullish. Price is doing a bit better than momentum. BABA is outperforming the SPY. Hence, this week we will look for a move back over the July 6-month calendar range high (97.04).
I will be off for a few days. Enjoy, and remember…
Price pays!
---
For more detailed trading information about our blended models, tools and trader education courses, contact Rob Quinn, our Chief Strategy Consultant, to learn more.
If you find it difficult to execute the MarketGauge strategies or would like to explore how we can do it for you, please email Ben Scheibe at Benny@MGAMLLC.com.

"I grew my money tree and so can you!" – Mish Schneider
Get your copy of Plant Your Money Tree: A Guide to Growing Your Wealth and a special bonus here.
Follow Mish on Twitter @marketminute for stock picks and more. Follow Mish on Instagram (mishschneider) for daily morning videos. To see updated media clips, click here.
---
Mish discusses Alibaba's stock price in this appearance on CNBC Asia.
In this guest appearance on David Keller's The Final Bar on StockCharts TV, talks higher rates and why China may deserve a second look for investors.
Mish discusses inflation, bonds, calendar ranges and places to park your money on the Benzinga Morning Prep show.
Mish covers why August is a good time for caution in this appearance on Business First AM.
Ahead of Thursday's critical US CPI update, Mish highlights the possible opportunities in the Wednesday, August 9 trading session for the S&P 500 and three key commodities on CMC Markets.
In this appearance on Fox Business' Making Money with Charles Payne, Mish and Charles cover Fed, oil and gas, and some picks for a manufacturing boom.
Mish and Nicole Petallides discuss market in correction, oil concerns, and some new picks on TD Ameritrade.
Mish runs the rule over the S&P 500 and key commodities in this video from CMC Markets.
Mish gives reasons why gold could return as a safe haven on Business First AM.
Mish talks about opportunities related to EVs in this video from Business First AM.
Mish and Jared go over oil and what might happen with small caps and regional banks in this appearance on Yahoo! Finance.
---
Coming Up:
August 17: Wolf Financial Spaces 1pm ET, Real Vision Daily Briefing 4pm ET
August 28: Chuck Jaffe, Money Show
September 7: Singapore Breakfast Radio, 89.3 FM
October 29-31: The Money Show
---
ETF Summary
S&P 500 (SPY): 450 pivotal, 440 support at the 50-DMA.
Russell 2000 (IWM): 191 is the 23-month holy grail, 194 July 6-month range high.
Dow (DIA): 35,000 support.
Nasdaq (QQQ): 362-382 range.
Regional Banks (KRE): 48 pivotal.
Semiconductors (SMH): 150 now the place to get back above.
Transportation (IYT): July 6-month calendar range high at 259.30 and 254 some support.
Biotechnology (IBB): Compression between 123-130.
Retail (XRT): 66-67.40 short-term range (closing levels matter).
Mish Schneider
MarketGauge.com
Director of Trading Research and Education