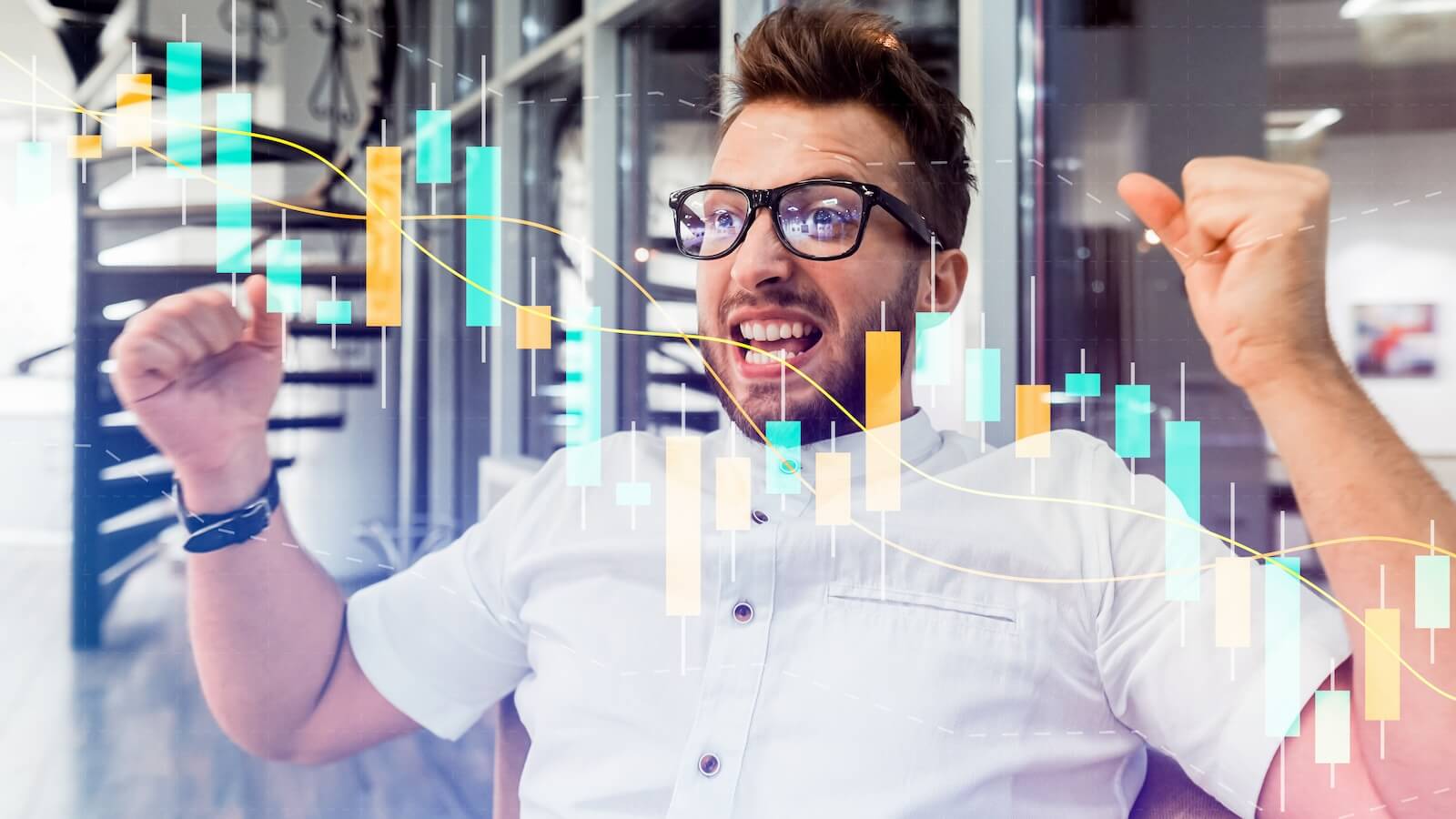 Five up days in a row for the S&P 500 ($SPX), Dow Jones Industrial Average ($INDU), and the Nasdaq Composite ($COMPQ)! That's a drastic change in investor sentiment from October.
Following the end of a dismal month, the first week of November delivered the strongest weekly close seen this year. And it's not just mega-cap big tech names. All S&P sectors, except Energy, ended in the green. For a Friday, that's an impressive showing. Does this mean investors can expect November to follow its expected seasonality pattern and ignite a rally to the end of the year?
CHART 1: THE S&P 500 INDEX, NASDAQ COMPOSITE, AND DOW JONES INDUSTRIAL AVERAGE CLOSED ABOVE THEIR 50-DAY MOVING AVERAGE. The strong finish was mostly due to the possibility that the Fed may be done hiking interest rates. Note the significant drop in the VIX.Chart source: StockChartsACP. For educational purposes.
Weakening Labor Market and Manufacturing
A lot of the investor optimism may be riding on Fed Chairman Jerome Powell's comments on Wednesday after the decision to leave interest rates unchanged at 5.25–5.5%. Although Powell didn't say the Fed was done raising rates, investors assumed that there would probably be no more rate hikes given the results of the more recent economic data.
The October jobs report came in weaker than expected, which helped ease some concerns. October's unemployment rate is 3.9%, indicating that the effects of interest rate hikes are beginning to show their impact. Manufacturing jobs are also slowing despite the recent strikes. Last month, 150,000 jobs were added, much lower than the 170,000 that was expected. ISM services for October came in at 51.8, less than the 53 estimate. So, a soft jobs report and a weakening manufacturing sector support the narrative that the Fed is done raising interest rates.
Stocks, Bonds, and Everything In Between
Equities continued to rise, Treasury yields fell, and the CBOE Volatility Index ($VIX) fell sharply to around 15. Earlier this week, the VIX was hovering around the 20 level, which was a concern. But that changed quickly. The picture the charts are revealing as this trading week comes to a close is one that illustrates how quickly investor sentiment can change. It's a classic scenario of herd mentality at work—investors rush to stocks for fear of missing out.
At times like this, it's best to be calm, determine what might be happening under the hood, and enter your trades when the time is right.
Market breadth indicators are a great way to understand the health of the different indexes. One breadth indicator to review is the bullish percent index (BPI). StockCharts publishes the bullish percent index for indexes, sectors, and industry groups. You could create a ChartList of the different BPIs and scroll through them to identify which indexes, sectors, or industry groups exhibit bullish sentiment. It can reveal some interesting scenarios that may be worth diving into. 
Focus on the Financial Sector
For example, the S&P Financial Sector Bullish Percent Index just crossed above the 50 level, which should prompt you to check out the Financial sector. One way to do that is to bring up a chart of the Financial Select Sector SPDR ETF (XLF). It has followed a path similar to the S&P 500—five up days in a row. XLF has crossed above its 50- and 200-day SMAs and closed at the 100-day SMA.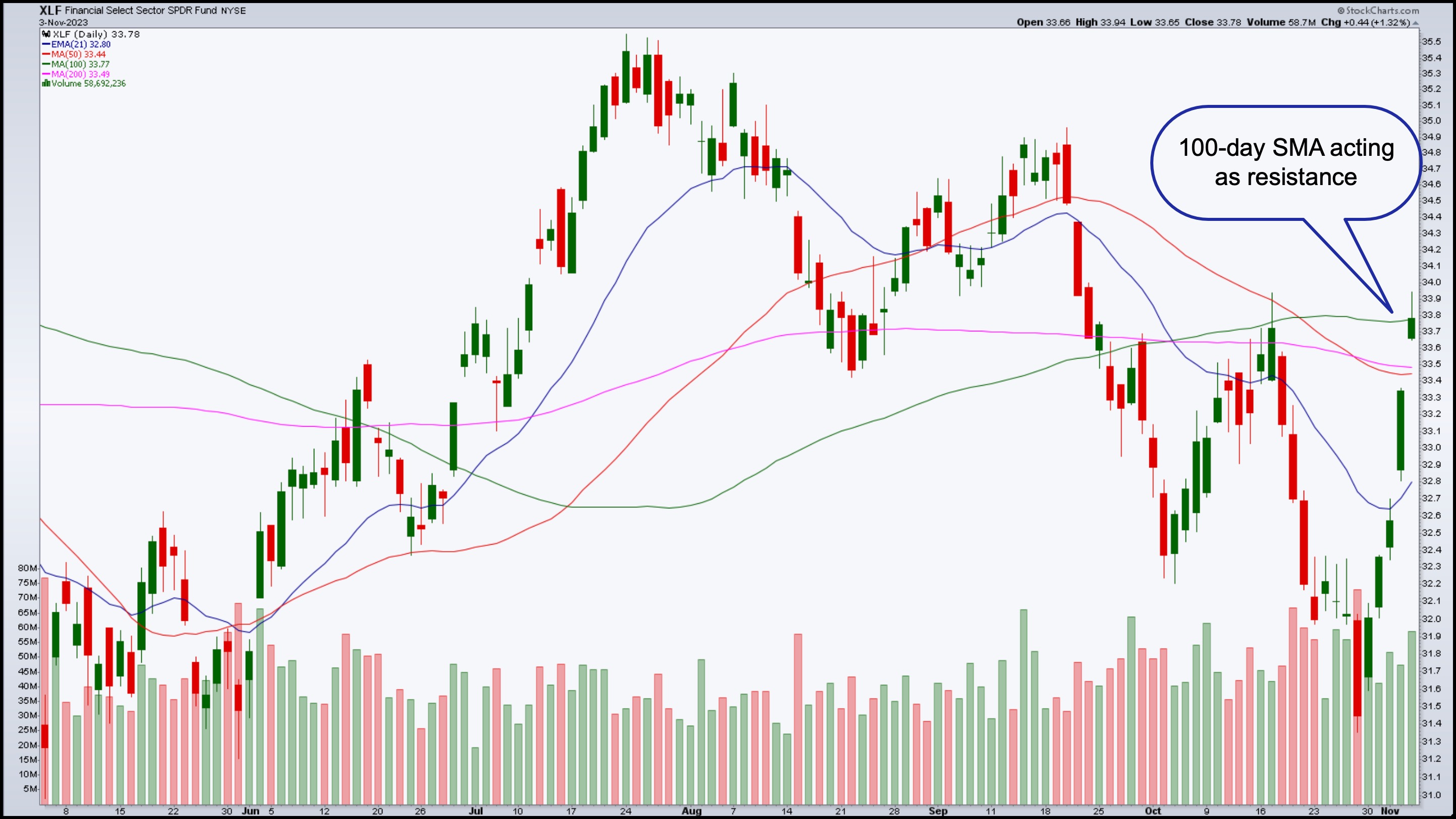 CHART 2: DAILY CHART OF XLF. The Financial sector is showing strength, which could be because of falling Treasury yields.Chart source: StockCharts.com. For educational purposes.
Even regional banks are doing well. The daily chart of the SPDR S&P Regional Banking ETF (KRE) below shows how this troubled subsector is beginning to show signs of life.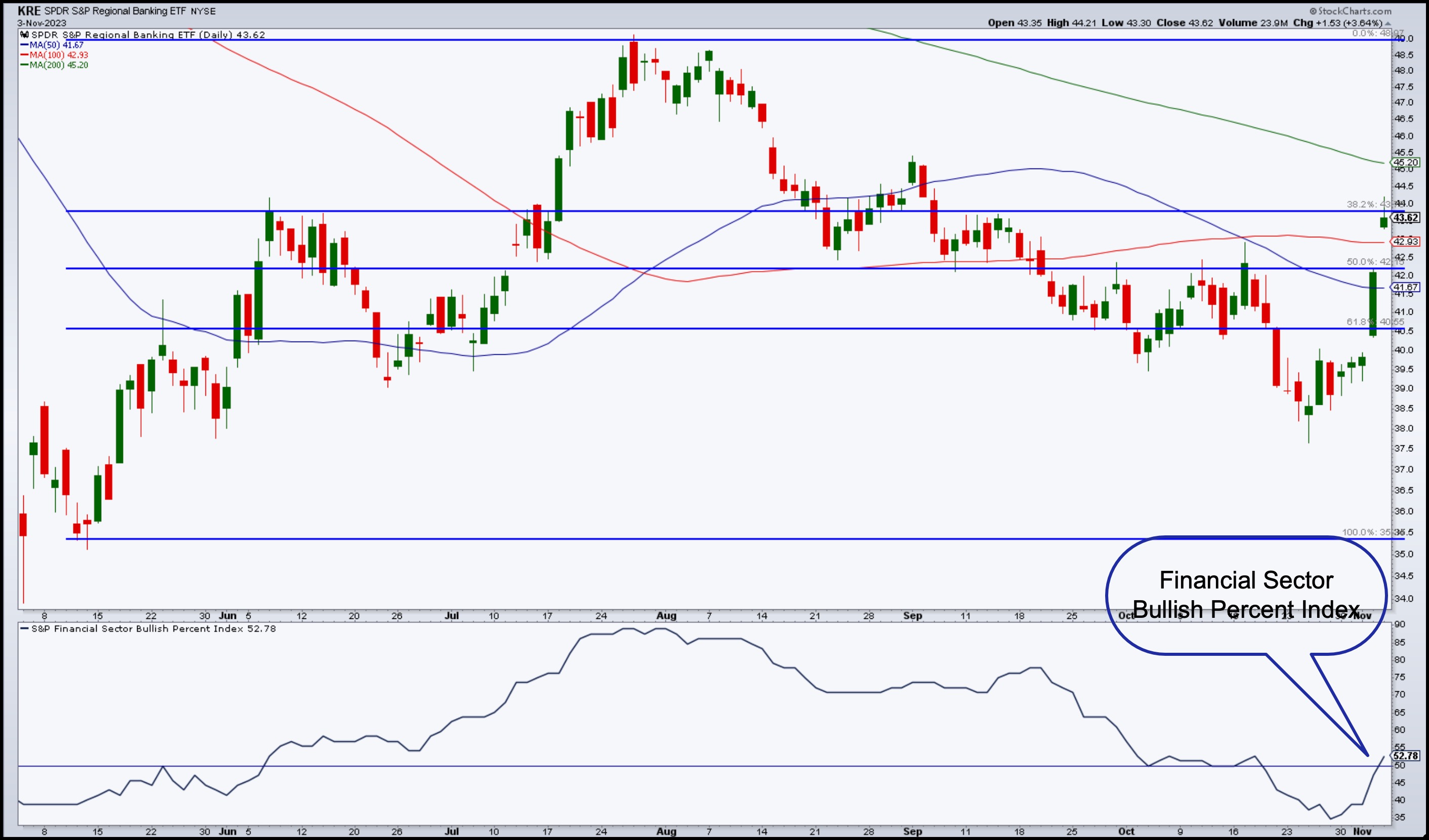 CHART 3: DAILY CHART OF S&P REGIONAL BANKING ETF (KRE). The ETF didn't close above its 38.2% Fibonacci retracement level, but it's worth watching. Note the Financial Sector Bullish Percent Index in the bottom panel.Chart source: StockCharts.com. For educational purposes.
Using Fibonacci retracement levels from the May low to the July high, the ETF has stalled at the Fib levels, for the most part, during its downward move from July to October. The ETF is now battling with its 38.2% Fib retracement level. A break above this level with follow-through would be a good time to accumulate some shares of KRE or its top holdings. The top 5 holdings are:
Trust Financial Corporation (TFC) 
M&T Bank Corp. (MTB)
First Horizon National Corp. (FHN) 
Zion (ZION)
Western Alliance Bancorp. (WAL)
Looking through the daily charts of the five stocks listed above, the one that looks closer to starting its upward move is Western Alliance. Looking at its daily chart below, you can see that the stock has crossed above its 200-day simple moving average (SMA), its SCTR score is at around 97.5, and its relative strength index (RSI) is between 50 and 70, which indicates the stock has room to run.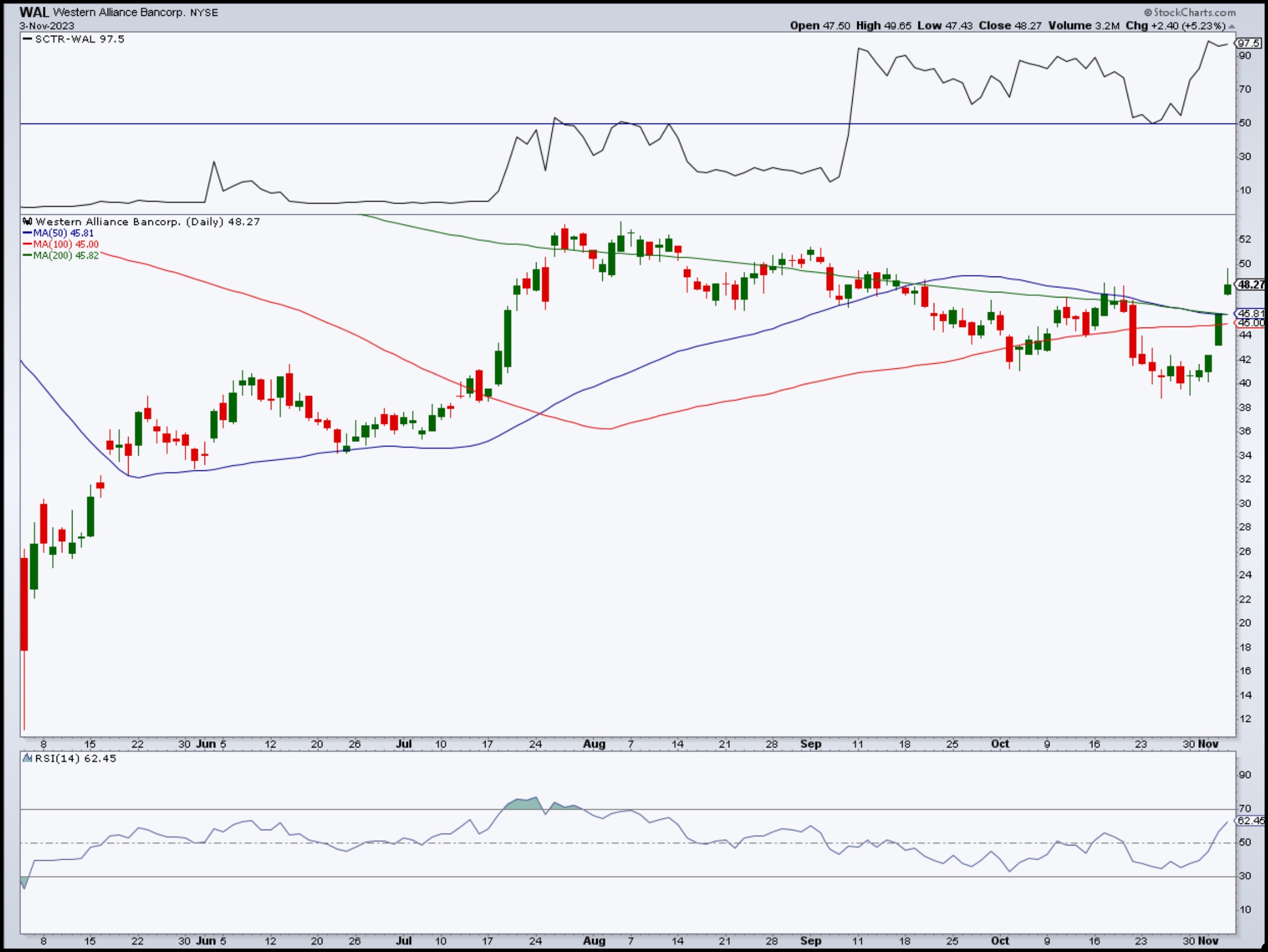 CHART 4: WESTERN ALLIANCE BANCORP CLOSED ABOVE 200-DAY SMA. With a SCTR score of 97.5 and an RSI of 62, this stock has room to rally.Chart source: StockCharts.com. For educational purposes.
The fall in Treasury yields is good news for banks since it opens the door to servicing loans. The 30-year yield, which at one point was above 5%, has pulled back to its 50-day SMA, and the 10-year and 5-year yields traded below their 50-day SMA.
The reversal in market sentiment happened quickly, and there's a chance it could be short-lived. Things can always go awry, and any piece of news that shifts investor thinking can quickly reverse the market. That's been the nature of the beast of late.
In a recent episode of The Final Bar, our chief market strategist, David Keller, CMT, said it best; "In a bullish phase, the market is innocent until proven guilty, and in a bearish phase, the market is guilty until proven innocent." Given that equities are in a bearish phase, what do you need to see for the market to prove itself innocent?
The broader indexes would have to overcome the trend of lower highs and lower lows. The S&P 500 ($SPX) and Dow Jones Industrial Average are very close to their previous highs, and with the speed at which the indexes have moved higher in the last five days, the wait may be relatively short. 
Will the stock market prove its innocence? It's possible, but we'll have to wait till next week to find out.
End-of-Week Wrap-Up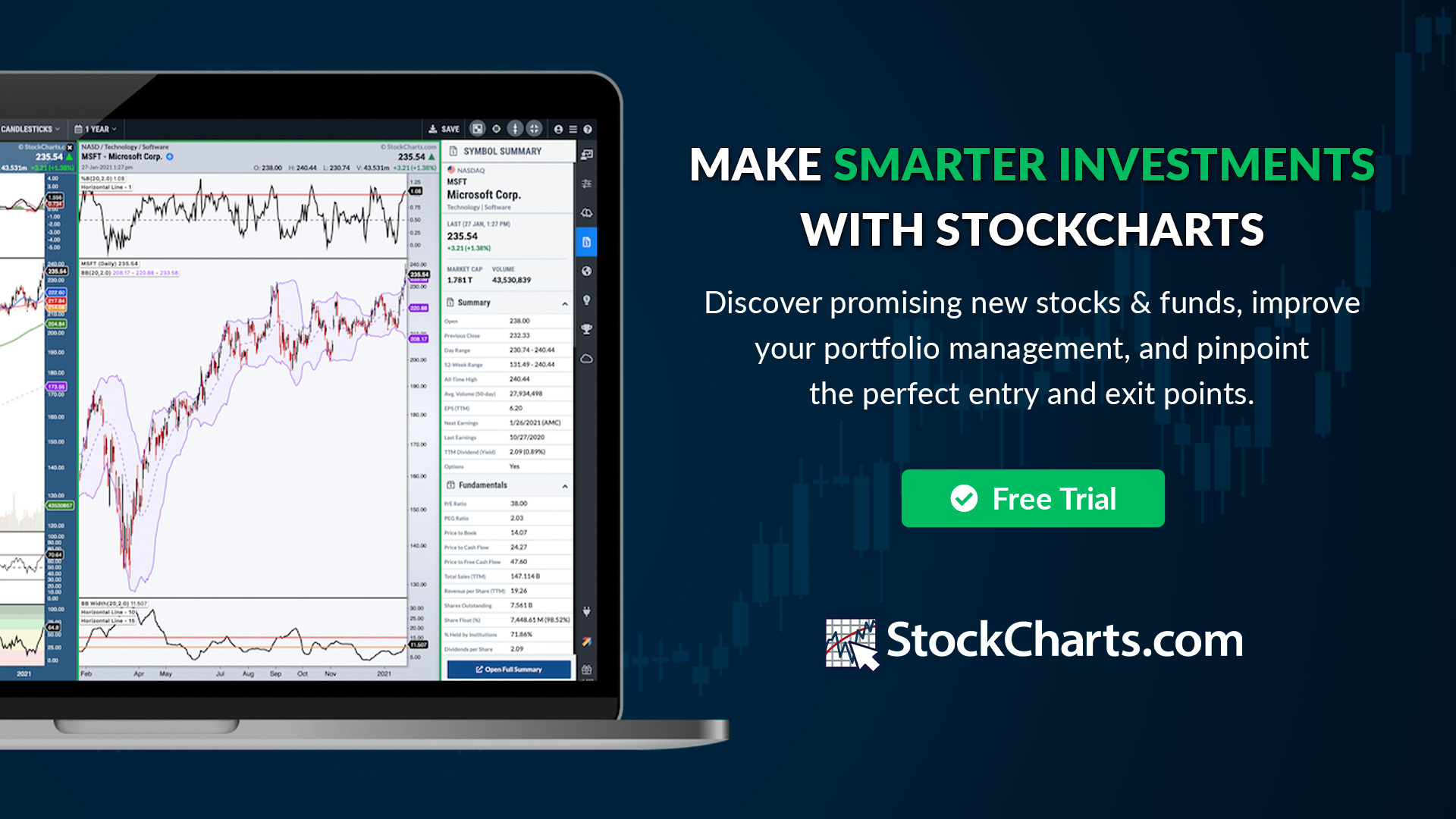 US equity indexes up; volatility down
$SPX up 0.94% at 4358.34, $INDU up 0.66% at 34,061.32; $COMPQ up 1.38% at 13478.28
$VIX down 4.73% at 14.92
Best performing sector for the week: Real Estate
Worst performing sector for the week: Energy
Top 5 Large Cap SCTR

stocks: Vertiv Holdings, LLC (VRT); Palantir Technologies, Inc. (PLTR); Applovin Corp. (APP); New Oriental Education & Technology Group, Inc. (EDU); Splunk Inc. (SPLK)
On the Radar Next Week
Earnings from Walt Disney Co. (DIS), Warner Bros. Discovery, Inc. (WBD), BioNTech (BNTX), Hilton Grand Vacations (HGV), Gilead Sciences (GILD), Robinhood Markets (HOOD) and many more.
November 30-Year Mortgage rates
Fed speeches
November Consumer Sentiment
---
Disclaimer: This blog is for educational purposes only and should not be construed as financial advice. The ideas and strategies should never be used without first assessing your own personal and financial situation, or without consulting a financial professional.