A study of the public listed companies headquartered in the top 25 global cities in terms of GDP has revealed interesting facts and figures. In 2022, Beijing-based public companies accounted for 19.2%, followed by Tokyo and New York-based public firms in terms of aggregate revenue, according to GlobalData, a leading data and analytics company.
The Top 25 Global Cities
The US has the highest number of cities with 13, followed by China with five cities. The top 25 cities were home to over 10,000 public companies, of which 28.3% were based out of the US, followed by Japan (25.6%), China (21.5%), Canada (8.2%), the UK (7.7%), Singapore (5.8%), France (2%), and Russia (1%).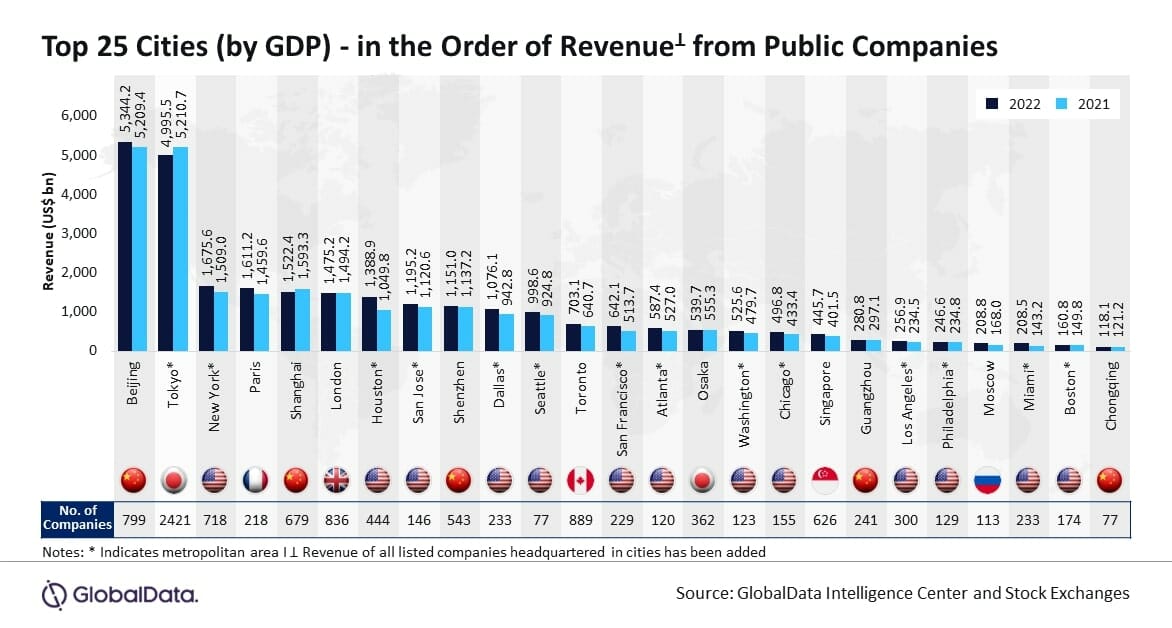 Murthy Grandhi, Company Profiles Analyst at GlobalData, comments: "Companies that were headquartered in the top 25 cities accounted for 36.8% of the aggregate revenue of the total sample size of over 40,000 companies in 2022. However, the Russia-Ukraine war, supply chain disruptions, and changing macro and geopolitical environments restricted the growth to just 5% rise in aggregate revenue of these 25 cities. In addition, the rising interest rates and looming global recession fears placed further strain on the public companies from these cities."
Beijing, Tokyo, and New York stood out as the leaders in aggregated revenue, while Tokyo, Toronto, and London took the top spots in terms of the number of companies among the top 25 cities. However, all the cities were behind Seattle, San Jose, and Paris in terms of average revenue per company in 2022. Seattle reported average revenue of $13 billion per company, followed by San Jose ($8.2 billion), and Paris ($7.4 billion), whereas Beijing, Tokyo, and New York witnessed $6.7 billion, $2.1 billion, and $2.3 billion, respectively.
Interestingly, in terms of revenues, Miami witnessed significant revenue growth with 45.6%, followed by Houston (32.3%), and San Francisco (25%). On the other hand, the Japanese cities Tokyo and Osaka witnessed a decline in revenue. Beijing overtook Tokyo in terms of aggregate revenues due to the public companies generating higher revenues in 2022 over the previous year.
The Asia-Pacific (APAC) region, which accounts for than 5,700 public companies, is the highest contributor with 19% of the total revenue generated by the public companies in 2022, followed by North America with 13.4%.
---
About GlobalData
4,000 of the world's largest companies, including over 70% of FTSE 100 and 60% of Fortune 100 companies, make more timely and better business decisions thanks to GlobalData's unique data, expert analysis and innovative solutions, all in one platform.