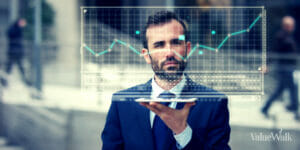 In his podcast addressing the markets today, Louis Navellier offered the following commentary.
If you wish to listen to this commentary, please click here.
Contracting Manufacturing
The Institute of Supply Management (ISM) reported on Wednesday that its manufacturing index declined to 48.4 in December, down from 49 in November. This is the second straight month that the ISM manufacturing index has been below 50, which signals a contraction after 30 straight months of expansion.
Q4 2022 hedge fund letters, conferences and more
Interestingly, the production component declined to 48.5 in December (down from 51.5 in November), while the new orders component declined to 45.2 in December (down from 47.2 in November). The backlog of orders component rose to 41.4 in December (up from 40 in November), but remains very weak.
Only 2 of the 13 industries surveyed reported an expansion in December. The industries that reported growth in December were Primary Metals as well as Petroleum and Coal Products. Overall, the ISM survey confirmed that the manufacturing contraction is getting worse.
Crude oil prices have fallen this week, due partially to China demand fears. The good news is that as the Chinese population achieves "herd immunity" after recovering from the latest Covid variant, China's economic activity should increase in the upcoming months.
When seasonal demand picks up in the upcoming months, crude oil prices should steadily rise. The big energy story this week is that natural gas prices remain very low due to unseasonably warm winter weather in both Europe and the U.S. Outside of the energy sector, expectations for earnings remain very low due to difficult year-over-year comparisons as well as a strong U.S. dollar impeding multi-international companies.
CES Boost
The Consumer Electronics Show (CES) in Las Vegas commences on Thursday. Often, the CES show helps to boost the stock market as new consumer products and EVs are announced. Although consumer spending on big-ticket items is waning, at least companies are trying to get folks excited.
One product that I found interesting is that Samsung introduced a 76-inch micro-LED television. Micro-LED televisions are supposed to replace OLED televisions in the upcoming years as costs fall. China's TCL is following Samsung to develop micro-LED technology.
In the meantime, more OLED televisions are now available, including a new 77-inch OLED from Samsung, so OLED televisions will continue to capture market share until micro-LED prices fall.
NVIDIA Corporation (NASDAQ:NVDA) is also making a splash at CES by showing off new graphics cards for gamers as well as teaming with Foxconn on EVs. Specifically, Foxconn will be using Nvidia's Drive Hyperion platform for the EVs it builds for Lordstown Motors and other companies.
Nvidia is now making more sensors, as well as the software auto manufacturers need for autonomous driving. In my opinion, Nvidia systems that use LIDAR are superior to Tesla's autonomous software that utilizes cameras (with no LIDAR) that do not work well in the snow, fog, smoke or heavy rain.
EV Shakeout
No one is apparently making money in the electric vehicle business in the wake of Tesla Inc (NASDAQ:TSLA) and Rivian Automotive Inc (NASDAQ:RIVN) missing their sales targets. As the inventory of Teslas builds, its competitors, like Rivian, are struggling to find enough batteries to meet their sales goals.
Expensive battery costs have made most EVs luxury vehicles and many do not qualify for a $7,500 tax credit. I should add that my Audi e-tron remains dead after 23,095 miles and over five months of waiting for its battery transplant to work.
Clearly, a shakeout is coming in the EV business, which may favor legacy automakers like Ford, Kia, Hyundai, Nissan, Mercedes and VW Group. Currently, GM remains behind in launching its EV models waiting for LG's new battery plants to come on line, so right now Ford, Hyundai and VW Group (Audi, Porsche, Scout and VW) remain Tesla's biggest competitors.
Coffee Beans
Many smartphone users have a soft spot for photo editing apps, used by roughly 4 in 10 smartphone users across several major markets, putting them behind basic apps such as email, browsers, and social media/messenger apps but way ahead of news, video, dating, and fitness apps. Source: Statista. See the full story here.