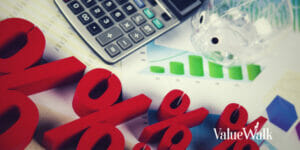 In his Daily Market Notes report to investors, Louis Navellier wrote:
Higher Interest Rates For Longer
Higher interest rates continue to weigh on stocks.
Longer-term US Treasury rates, 5-year and longer, continue to rise, creating damage across fixed income and adding pressure on stocks bought for their dividend yield. The market pullback of August in both stock and bond prices is certainly giving pause to the flow of money off the sidelines.
The higher rates are confusing for most outlooks in that the bulls see falling inflation and are forecasting rate cuts by the Fed as soon as the end of the year, while the bears still see a recession in late '23.
In both cases, the outlook was for longer yields to stay flat or fall and to see the curve eventually get back to a positive slope by the Fed bringing down overnight rates to slightly above inflation. The 10yr is now above 4.30%, where it hasn't been since 2007, putting pressure on mortgage rates and corporate bonds. The 5yr at 4.43% will pressure car loans and bank term loans.
A major part of the reason for higher long rates is how much the new issuance by the US Treasury, with pent-up needs after the delay of the budget ceiling brinkmanship, the lack of buying by the Fed who had been the major buyer of all auctions during QE and are now letting their massive portfolio roll off as it matures, and that traditional buyers of fixed income are reluctant to settle for lower yields of longer maturities when they can just sit in shorter less volatile maturities at higher yields.
The "higher for longer" theme of the Fed, as highlighted in the minutes notes released yesterday is gaining traction, while prospects for an actual recession have waned. Finally, higher rates bring damage to equity models based on discount rates of forecasted earnings, and in theory, hit growth stocks far worse than value stocks.
Steeper Wall of Worry
The wall of worry has gotten steeper in August but the underpinning of consumer spending and corporate earnings has yet to falter and so far we've had a run-of-the-mill 4% pullback from the recent high, and no one should panic.
Coffee Beans: Fallen Angels
Belief in God, heaven, hell, angels, and the devil is slowly decreasing in the United States, according to Gallup data. Belief in God has fallen from 90% of respondents in 2001 to 74% in 2023, while belief in heaven slid from 83% to 67% in that time. Source: Statista. See the full story here.