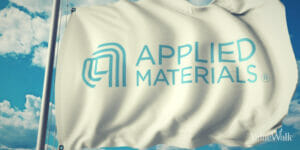 Applied Materials, Inc. (NASDAQ:AMAT) shares rose in early Friday trade after the chipmaker gave an FQ4 forecast for adjusted earnings per share that beat the average analyst estimate.
The Santa Clara-based business said it expects its FQ4 EPS to come in at $2.00 (up or down 18 cents) on revenue of $6.51 billion (up or down $400 million), easily ahead of the analyst consensus that was looking for earnings of $1.61 per share on revenue of $5.86 billion.
"Over the past several years, we have focused our strategy and investments on key technologies to accelerate the Internet of Things and AI era, enabling us to consistently deliver strong results in 2023 and positioning Applied Materials for sustainable outperformance," Gary Dickerson, President and CEO, said in a press release.
How Did $AMAT Perform in FQ3?
When it comes to the company's performance in the fiscal third quarter, AMAT posted an EPS of $1.90, which compares to the $1.94 posted in the same period last year. Analysts were looking for a profit per share of $1.73.
"Applied Materials executed well in our fiscal third quarter, with revenue and earnings at the high end of our guidance range," Dickerson added.
Revenue fell 1.5% year-over-year to $6.43 billion, while analysts were expecting a sales decline of as much as 5.5%. The FQ3 sales outperformance was fueled by stronger-than-expected sales in AMAT's second-largest business unit by revenue generated – Applied Global Services.
This segment generated revenue of $1.46 billion, up 3.1% YoY and ahead of the consensus of $1.43 billion. On the other hand, the largest unit – Semiconductor Systems – saw its revenue fall 1.2% YY to $4.68 billion, but also ahead of what the Street analysts were expecting. Finally, sales in the Display and Adjacent Markets were down 29% YoY to $235 million.
Applied Materials said its adjusted gross margin expanded by 20 basis points YoY to 46.4%, better than the expected expansion by 10 bps. The company generated $2.58 billion in cash from operations, out of which $707 million was distributed to shareholders – $439 million through share buybacks and $268 million in dividends.
Applied Materials is one of the chipmakers that is seen as a beneficiary of the ongoing AI transition. Back in 2018, the company said it expects IoT and AI to drive a new wave of semiconductor growth and innovation.
"We view IoT and AI computing as two sides of the same coin. At the edge, consumer devices, vehicles, buildings, factories, and infrastructure are all getting smarter and more capable," CEO Dickerson said on the earnings call.
The management was very clear in the message to investors – Applied Materials is well positioned for IoT and AI inflections that are taking place at the moment.
"We have strong leadership positions in ICAPS, leading-edge foundry-logic, DRAM, and heterogeneous integration using advanced packaging. This strategy is enabling us to consistently deliver strong results in 2023 despite lower overall wafer fab [WFE] equipment spending and positions us for sustainable outperformance over the coming years," Dickerson also noted.
The stronger-than-expected FQ4 guidance likely hints that AMAT is already now feeling a boost from AI demand as the company continues to operate in a generally weaker WFE environment. Another positive for AMAT is that the chipmaker has a generally low exposure to China, which is in the midst of the chip war with the United States.
Key Factors to Consider When Day Trading
Day trading practically refers to buying and selling securities within a single trading day. As taught by the most popular day trading courses, this trading approach is based on short-term trading opportunities, which are generated by daily up-and-down price movements.
A day trading approach can be implemented while trading forex, stocks, cryptocurrencies, or any other asset class. One of the popular day-trading techniques is based on the news and the release of high-importance economic data. Day traders tend to prepare a calendar of fundamental events for the day ahead as these tend to move the markets, and therefore create day trading opportunities.
Along these lines, buying and selling securities based on the release of quarterly earnings reports is another popular way of implementing day trading. Short-term traders tend to use the implied options volatility data when planning their next moves.
Given the term itself, day traders are looking for short-term, sharp moves in either direction that will allow them to capitalize on price movements and close the trade immediately, instead of waiting for a bigger trend to develop over the course of a few days or weeks.
Other day trading strategies include swing trading, arbitrage trading, or trading the mergers & acquisitions news. Short-term traders also base their trades on technical indicators as they can point to where the market supply and demand are located.
Is There a Day Trading Opportunity in $AMAT Stock After Solid Earnings and Guidance?
Given the stronger-than-expected FQ3 earnings report and very robust guidance for this quarter, which implies a heightened level of visibility, the question arises: Is there a day trading opportunity in this chipmaker?
AMAT shares trade about 3% higher in early Friday trade after the company's better-than-expected results. The stock is up over 41% year-to-date amid the AI frenzy and despite weaker demand for IT equipment.
However, given the generally weaker market sentiment that is a dominant theme over the last couple of days due to the higher risk of the Fed keeping rates "higher for longer", there could be a pullback in AMAT shares despite strong company-specific fundamentals.
The AMAT stock has already pulled back from the multi-month highs after it hit 19-month highs in July. Shares likely bottomed in October last year, before AMAT surged as much as 115% over the course of the next few months.
Shares in the chipmaker are now indicated to open above $142 apiece, after closing at $137.41 on Thursday. The zone around $141.50 offers a near-term support level that could be used as a day trading buying opportunity in the case a pullback occurs. In this case, the bulls would be interested in a test of the next resistance level which is located in the $145-147 zone.
Summary
There could be a day trading opportunity developing in AMAT shares after the company reported better-than-expected FQ3 earnings and gave a robust forecast for this quarter, boosted by demand for AI and IoT products. A pullback in shares due to weaker market conditions could see short-term traders on alert as the positive sentiment surrounding chipmaker could last for at least a few days.