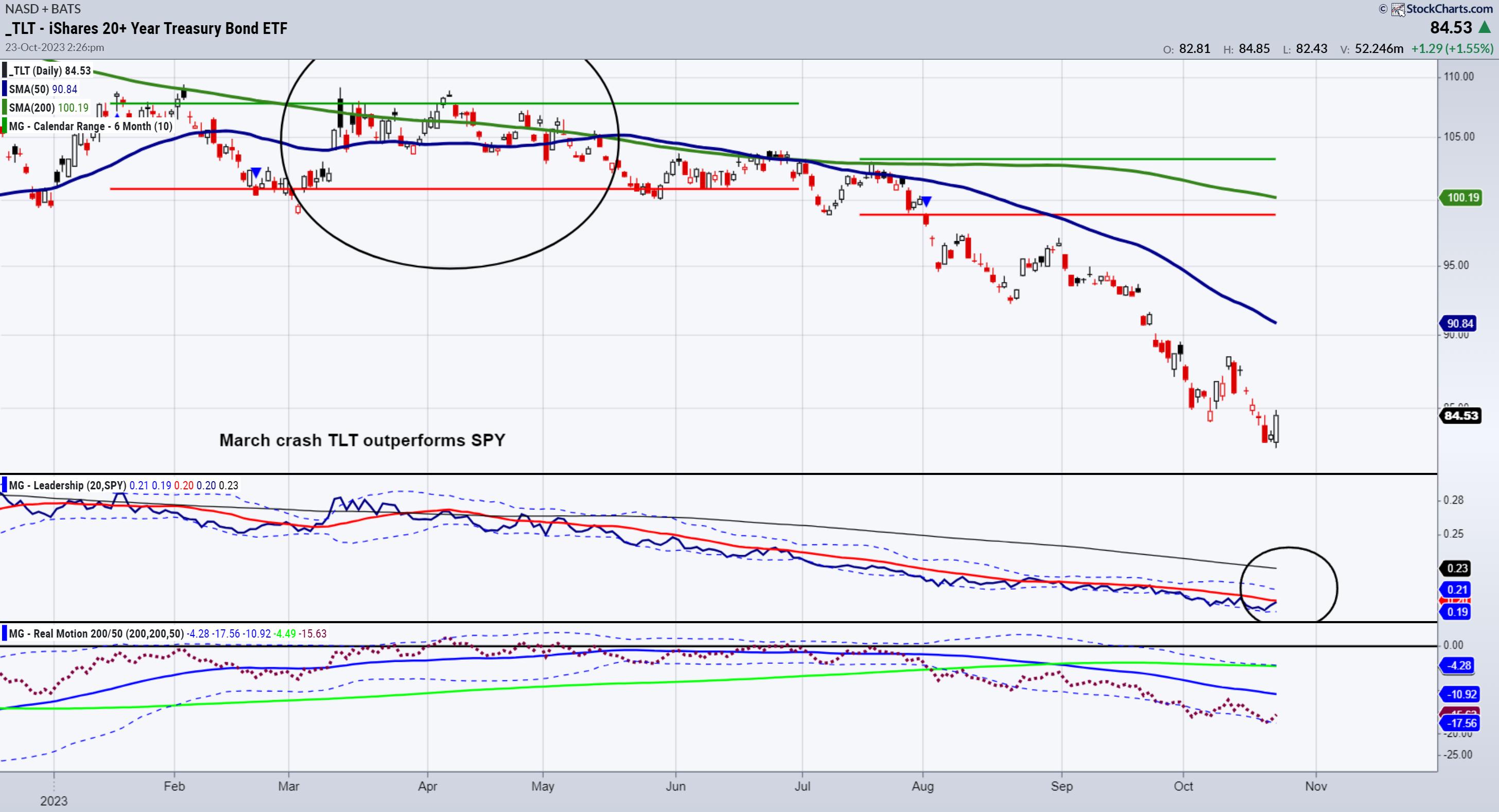 Monday, after a lot of spooky headlines, the SPDR S&P 500 ETF (SPY) touched its 23-month moving average (MA) or the two-year biz cycle breakout point right around 417.
Plus, the iShares 20+ Year Treasury Bond ETF (TLT) flashed green as did IWM, the small caps.
The big question is, can IWM close out October above 170?
If not, any rally will be short-lived.
Today was an interesting day.
SPY also cleared back over the 200-day MA, which if held, could mean more relief rally.
But, TLT is reversing as well, so what we don't want is for the long bonds to outperform SPY.
Why?
That would be risk-off and recessionary.
It would embolden the already bold commodities to run, especially with the dollar falling.
Which we see as #stagflation.
From a technical standpoint, yes, this is a mean reversion.
However, if you look back to July, it is the 5th oversold rally in TLT.
Sustainable?
The biggest fundamental dynamic is that inflation can go hyperbolic (it already is in certain soft commodities because of the geopolitical soup).
And, if the Fed relaxes now, one must wonder if they will be caught from behind again.
Nonetheless, for us, the most important aspect of this is how TLT performs against the SPY and how HYG (junk bonds) perform against the TLT.
Bulls want TLT to underperform both.
Note the ellipses and text on the chart of TLT or the 20+ Year long bonds.
Back in March, when we had the bank crisis flash crash, bonds signaled a flight to safety by outperforming the SPY starting March 7.
At the same time, the price was around 101.
Real Motion showed a bullish momentum divergence as TLT crossed over the 50-DMA long before the price did.
SPY crashed, and TLTs rallied to 109.10 in a matter of days.
Fast forward to today, TLT remains slightly underperforming the SPY.
The momentum indicator shows a mean reversion but not a bullish divergence.
Should TLT do what it did in March, that is, outperform the SPY, take that as a warning.
That is a sign of risk-off, and perhaps a harbinger of an oncoming recession; or worse, stagflation.
Let's not freak out yet though.
It is always good to plan ahead yet act on price accordingly.
---
This is for educational purposes only. Trading comes with risk.
If you find it difficult to execute the MarketGauge strategies or would like to explore how we can do it for you, please email Ben Scheibe at Benny@MGAMLLC.com, our Head of Institutional Sales. Cell: 612-518-2482.
For more detailed trading information about our blended models, tools and trader education courses, contact Rob Quinn, our Chief Strategy Consultant, to learn more.


Get your copy of Plant Your Money Tree: A Guide to Growing Your Wealth.
Grow your wealth today and plant your money tree!
"I grew my money tree and so can you!" – Mish Schneider
Follow Mish on Twitter @marketminute for stock picks and more. Follow Mish on Instagram (mishschneider) for daily morning videos. To see updated media clips, click here.
---
Hear Mish's thoughts on earnings, the macro environment, and her three stock picks on Bloomberg BNN.
Ever thought of owning commodities? Hear what Mish says about the key commodities you should consider in this video.
Mish participates in Crypto Town Hall X Space. You can sign in to your X account and watch it here.
In this video, Mish talks about trading Garmin Ltd. (GRMN) on Business First AM.
Mish and Dale Pinkert discuss the disconnect between news and markets-and how to best invest right now in this video from ForexAnalytix's pre-market show.
In this video from CMC Markets, Mish shares her short-term forecast for USD/JPY and popular commodity instruments ahead of the US PPI announcement and September's Fed meeting minutes, with recent dovish comments from Fed officials suggesting a potential shift in the committee's policies.
Mish joins Business First AM to discuss the market reaction to the war in Gaza in this video.
Mish discusses what's needed for a market bottom on the Financial Sense Newshour podcast with Jim Puplava.
Mish takes over as guest host for David Keller, CMT on the Monday, October 9 edition of StockCharts TV's The Final Bar, where she shares her thoughts in the daily Market Recap during a day of uncertain news.
To quote Al Mendez, "The smartest woman in Business Analysis @marketminute [Mish] impresses Charles with her "deep dive" to interpret the present Market direction." See Mish's appearance on Fox Business' Making Money with Charles Payne here!
Mish covers bonds, small caps, transports and commodities-dues for the next moves in this video from Yahoo! Finance.
In this video from Real Vision, Mish joins Maggie Lake to share what her framework suggests about junk bonds and investment-grade bonds, what she's watching in commodity markets, and how to structure a portfolio to navigate both bull and bear markets.
Mish was interviewed by Kitco News for the article "This Could Be the Last Gasp of the Bond Market Selloff, Which Will be Bullish for Gold Prices", available to read here.
Mish presents a warning in this appearance on BNN Bloomberg's Opening Bell — before loading up seasonality trades or growth stocks, watch the "inside" sectors of the US economy.
Watch Mish and Nicole Petallides discuss how pros and cons working in tandem, plus why commodities are still a thing, in this video from Schwab.
---
Coming Up:
October 24: Benzinga Pre Show
October 26: Cheddar TV on the NYSE
October 27: Live in-studio with Charles Payne, Fox Business
October 27: Live in-studio with Yahoo Finance!
October 27: Recorded in-studio with Investor's Business Daily
October 29-31: The Money Show
Weekly: Business First AM, CMC Markets
November 1–13 VACATION
---
ETF Summary
S&P 500 (SPY): 417–420 support
Russell 2000 (IWM): 170 now in the rearview mirror
Dow (DIA): 332 support pivotal
Nasdaq (QQQ): 351 recent low and support
Regional Banks (KRE): 35 next support
Semiconductors (SMH): 140 support.
Transportation (IYT): 225 pivotal
Biotechnology (IBB): Under 120 so 110 area next support
Retail (XRT): 57 key support still
Mish Schneider
MarketGauge.com
Director of Trading Research and Education