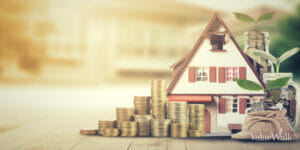 On The Mortgage Front
Freddie Mac (OTCMKTS:FMCC) reported the 30-year fixed-rate mortgage averaged 6.48% as of Jan. 5, up from last week when it averaged 6.4%; a year ago at this time, it averaged 3.22%. The 15-year fixed-rate mortgage averaged 5.73%, up from last week when it averaged 5.68%; a year ago at this time, it averaged 2.43%.
Q4 2022 hedge fund letters, conferences and more
"Mortgage application activity sunk to a quarter century low this week as high mortgage rates continue to weaken the housing market," said Sam Khater, Freddie Mac's chief economist. "While mortgage market activity has significantly shrunk over the last year, inflationary pressures are easing and should lead to lower mortgage rates in 2023."
"Homebuyers are waiting for rates to decrease more significantly, and when they do, a strong job market and a large demographic tailwind of millennial renters will provide support to the purchase market," Khater added. "Moreover, if rates continue to decline, borrowers who purchased in the last year will have opportunities to refinance into lower rates."
Mortgage applications fell during the two weeks ending Dec. 30, 2022, according to data from the Mortgage Bankers Association. The Market Composite Index, a measure of mortgage loan application volume, was down by 13.2% on a seasonally adjusted basis and down 39.4% on an unadjusted basis.
The seasonally adjusted Purchase index was down 12.2% and the unadjusted Purchase Index dropped 38.5%. The holiday adjusted Refinance Index decreased 16.3% and was 87% lower than the same week one year ago.
"The end of the year is typically a slower time for the housing market, and with mortgage rates still well above 6% and the threat of a recession looming, mortgage applications continued to decline over the past two weeks to the lowest level since 1996," said Joel Kan, MBA's vice president and deputy chief economist.
"Purchase applications have been impacted by slowing home sales in both the new and existing segments of the market. Even as home-price growth slows in many parts of the country, elevated mortgage rates continue to put a strain on affordability and are keeping prospective homebuyers out of the market."
Kan also noted that while mortgage rates are lower than the peaks reached in October, they "would have to decline substantially to generate additional refinance activity."
On The Homeownership Front
More than 2 million homes will no longer require financing with a jumbo loan, according to a new analysis by Zillow Home Loans, a division of Zillow Group Inc. (NASDAQ:Z) (NASDAQ:ZG).
The change is attributed to a recent action by the Federal Housing Finance Agency's (FHFA) that increases conforming loan limits to $1,089,300 in 103 high-cost markets; this marks the first time that the conforming loan limit was higher than $1 million. For most of the country, the FHFA's the conforming loan requirement was increased from $647,200 in 2022 to a baseline of $726,200 this year.
"The addition of 2 million homes that now qualify for conforming loan options across the county is welcome news for home buyers entering a shopping season with fewer homes on the market," said Nicole Bachaud, Zillow Home Loans senior economist.
"Home price appreciation has slowed significantly, and this means that homes nearing jumbo loan territory will stay eligible for conforming loans longer than we have seen in the last few years."
Elsewhere in the housing data sphere, Redfin (NASDAQ:RDFN) reported home sellers gave concessions to buyers in 41.9% of home sales in the fourth quarter, the highest share of any three-month period in the company's coverage of the housing market.
That's up from just over 30% in both the previous quarter and the fourth quarter of 2021, and it is higher than the 40.8% peak from the three months ending July 2020, when the housing market nearly ground to a halt during the Covid-19 pandemic.
Redfin's concessions records date back to July 2020 and are based on data submitted by Redfin buyers' agents.
"Buyers are asking sellers for things that were unheard of during the past few years," said Van Welborn, a Redfin real estate agent in Phoenix, where sellers gave concessions to buyers in 62.9% of home sales in the fourth quarter.
"They're feeling empowered, partly because their offer is often the only one, and partly because they know sellers have built up so much equity during the pandemic that they can afford to dole out sizable concessions.
I recently helped one of my buyers negotiate a $10,000 credit for a new roof and a handful of other repairs. We originally asked for $15,000, but were happy with $10,000 because the homeowner also agreed to sell for less than their asking price."