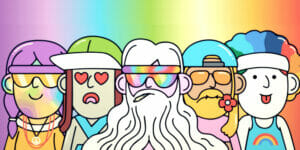 There's no doubt that the NFT market has experienced a turbulent year. But despite a massive cooling off in trading volume, 2022 saw a steady stream of growth and investment into new projects in development.
The slowdown in sales and hype around NFTs is a facade for what's brewing right under the surface. And while it could take a few years to take off again, there's no doubt that NFT technology and innovation being built now will become part of many industries in the near future.
So, what will the market look like in 2023? And what are the key trends to watch this year? To understand where we are heading, let's take a look at the past 12 months.
Q4 2022 hedge fund letters, conferences and more
What Happened In 2022?
According to the Balthazar NFT Marketplace Update, NFT sales totaled US$29.64 billion in 2022 across five of the largest NFT marketplaces: OpenSea, Magic Eden, X2Y2, LooksRare and Solanart. While this is more than double (107 percent) the sales volume of 2021 (US$14.29 billion), it was largely attributed to the first half of the year.
For example, there was US$7.06 billion in sales volume across the five marketplaces combined in January 2022, the highest recorded monthly volume. By December, the total sales was US$448.59 million – 94 percent lower than the January peak.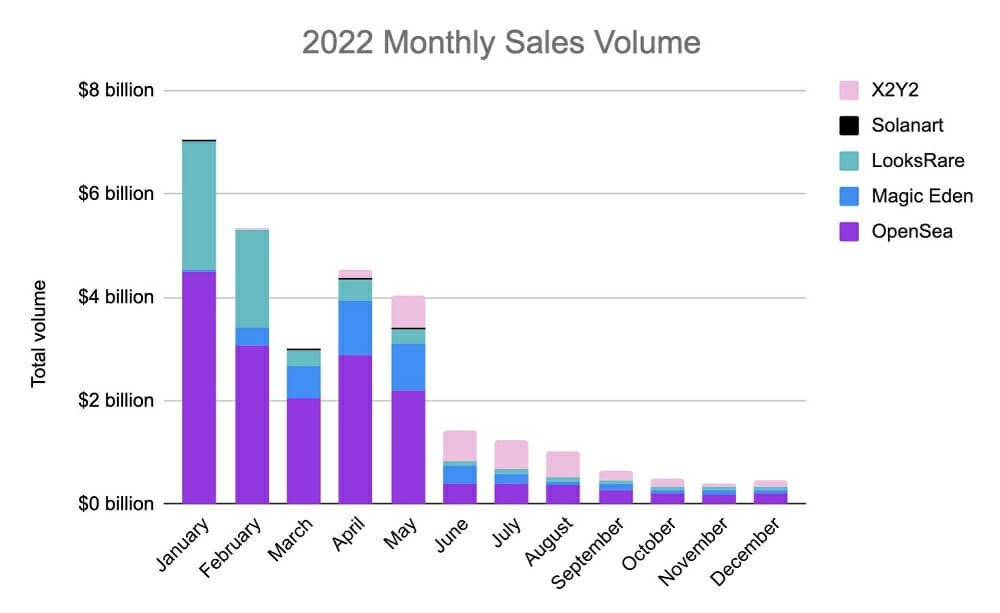 OpenSea, launching in 2021, is the largest NFT marketplace in the world, and recorded a 28% increase in trade volume in 2022 compared to 2021, reaching US$16.75 billion. LooksRare, another platform that launched in December 2021, recorded US$5.83 billion in trade volume in 2022.
Magic Eden, which was launched in September 2021, saw the third-highest trade volume, with US$3.93 billion in sales on its platform in 2022. Newcomer X2Y2, which launched in late January 2022, recorded US$3 billion in sales volume for the year, and Solanart recorded US$128.94 million in 2022.
Macroeconomic conditions also likely impacted the decline in NFT sales volume last year, as well as the three cataclysms of 2022: Terra Luna, Three Arrows Capital and FTX. We've seen interest rates rise and disposable incomes reduce, and volatility in the stock market including significant reductions in the valuations of blue chip tech stocks. Being a highly speculative industry, it's natural to see a reduction in trading for NFTs.
Key NFT Trends For 2023
Macroeconomic Conditions Will Continue To Place Pressure On The Market
I think that 2023 is going to be a rough year. I feel like there's still more blood to shed from Alameda, FTX and others. There is probably a year's worth of recovery just from that. And the current macroeconomic conditions will likely continue this year, which is a concern for any form of tech asset. I hope there's a bull run this year but I highly doubt it.
New Applications For NFTs Will Emerge
The hype for NFTs began with digital art, which caught on because people love to be a part of a community. It's like supporting an early stage company and if you believe in what their vision is then it's an exciting way to participate.
While we've seen a decline in sales of that particular vertical, we're starting to see really cool and different applications of NFTs. For instance, someone bought a house with NFT technology, you can track carbon emissions with NFTs and invoices can be produced from smart contracts.
So perhaps in 2023, 2024 and onwards, when you buy an NFT it won't just be buying a piece of digital imagery, you'll actually buy something bigger that's attached to that photo. And you can also buy the tokens from the companies that create that technology.
More Web2 Gamers Playing Web3 Games
I'm expecting to see more gaming growth next year and beyond. We will see really good games start to come out and use NFT tech in a more creative way, such as issuing rewards or increasing the value of the NFTs you're playing with.
At Balthazar, we're focused on infrastructure for Web3 gaming with our software development kit (SDK) called Babylon, which has seen hundreds of games studios interested in using the tech to get on board with Web3.
We're starting with gaming, to solve the problems of easy onboarding, opening accounts, in-game marketplace, peer-to-peer transactions, Web3 inventory management systems and on-chain in-game transactions in real time. We will expand into solving problems around password and credential recovery, which will unlock categories such as DeFi, and other products that are really good but hard to access for Web2 users. And products that still require decentralization.
Gaming assets can be a great buying opportunity given the principles of digital ownership – and ultimately that people get real value out of playing a game. There's a utility for it.
What we're seeing is the infant phase of what can be done with NFT technology. As we spend more time in the digital world, the importance of objective verification through blockchain technology is more needed (and useful) than ever.
I'm excited for the next phase of progress in the NFT market, as more creativity and innovation will be realized and more people will become aware of the potential of NFTs as a new form of digital asset ownership.