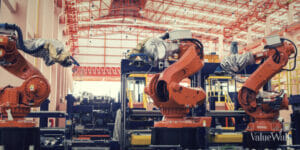 In his podcast addressing the markets today, Louis Navellier offered the following commentary.
Consumers Remain Scared Of The Future
The Conference Board on Tuesday announced that its consumer confidence index slipped to 107.1 in January, down from a revised 109 in December. The silver lining was the present situation component rose to 150.9 in January, up from 147.4 in December. However, the expectations component plunged to 77.8 in January, down from 83.4 in December. So consumers are feeling better, but remain scared of the future.
Q4 2022 hedge fund letters, conferences and more
Service Jobs Dominating
ADP announced on Wednesday that only 106,000 new private payroll jobs were created in January, which was substantially below economists' consensus estimate of 190,000. The hospitality sector added 95,000 jobs, so the service sector is dominating job creation.
Trade transportation and utilities shed 41,000 jobs, so the Amazon.com layoffs showed up in this sector. The construction sector lost 24,000 jobs, but many of these jobs were likely weather-related since the Midwest shed 40,000 jobs. The manufacturing sector added 24,000 jobs.
Interestingly, small businesses with less than 50 employees, shed 75,000 jobs, while large companies with more than 500 employees added 128,000 jobs. Overall, the ADP report is lowering expectations for Friday's payroll report.
No Manufacturing Green Shoots
The Institute of Supply Management (ISM) on Wednesday announced that its manufacturing index declined to 47.4 in January, down from 48.4 in December. Since any reading below 50 signals a contraction, the ISM manufacturing index has declined for the past three months.
The new orders component plunged to 42.5 in December, down from 45.1 in December, while the backlog of orders component declined to 43.4 in January, down from 45.4 in December.
This is truly horrible, but the primary reason that the ISM manufacturing index did not fall further was that its new export orders component rose to 49.4 in January, up sharply from 46.2 in December. So other than rising export orders, there were no "green shoots" in the January ISM manufacturing report.
Treasury Auctions
Recent Treasury auctions have been going amazingly well due to the fact the bid-to-cover ratio has averaged only 0.12%. In fact, January experienced the strongest bidding for Treasury securities since October 2021.
Frankly, this means that bond investors are fully expecting inflation cooling off and that the Fed's key interest rate hikes will soon end. Although the Fed will clarify its course on Wednesday in its Federal Open Market Committee (FOMC) statement, there is no doubt that market rates are now influencing Fed policy.
One of the reasons that there is likely a lot of buying pressure at recent Treasury auctions is that investors suddenly have some good money market investments available, plus certificates of deposits (CDs) have become popular again.
Obviously, investors are not worried about inflation, since they have been systematically pushing Treasury yields lower. The Fed's favorite inflation indicator, namely Personal Consumption Expenditure (PCE) index, cooled to a 5% annual pace in December. The core PCE, excluding food and energy, also cooled to a 4.4% annual pace.
In December, in the PCE data, the prices for goods declined 0.7% in December, while the price of services rose 0.5%. The Fed has been trying to squelch service inflation and is nearing the end of its inflation fight.
Coffee Beans
Mattel has made history by introducing its first doll with scoliosis. Barbie's little sister, Chelsea, features curvature of the spine and a removable back brace, aimed at normalizing the equipment and encouraging children to celebrate inclusion. Source: Sky News. See the full story here.