With 10y yield retreating back to 4.20%, stocks had an easier time retracing Friday's hit, and then some. No technically important level had been breached on a closing basis (neither 4,447, nor 4,465), and in spite of the improving breadth powered by financials, materials and industrials with tech not lagging behind, I'm looking for deterioration to start today. Volume had been drying up on the upswing, so I would disregard the advance-decline line or volume, and listen rather to the barely improving equal weighted index, retail (XRT) or Russell 2000 troubles.
Cyclicals aren't going to have such a bright day today – and the reasons would be beyond financials  checking upon the daily rise in yields. See the balance of outstanding loans in Bank Term Funding Program if in doubt whether high yields or collateral deterioration is biting or not.
The optimistic S&P 500 valuation at roughly 18 times forward earnings, has quite a serious competitor in Treasuries yielding handsomely, for quite a while. The retreat in stocks isn't yet complete, and the coming JOLTS wouldn't paint a picture of economic acceleration.
Yet the very expansive fiscal policy (deficits as if we were in a recession already) is keeping in check the restrictive monetary one, but the speed with which various China moves from halving stamp duty on stocks to buying by funds and state enterprises is dialed back, speaks volumes about risks to the downside.
Keep enjoying the lively Twitter feed via keeping my tab open at all times (notifications on aren't enough) – combine with subscribing to my Youtube channel, and of course Telegram that always delivers my extra intraday calls (head off to Twitter to talk to me there), but getting the key daily analytics right into your mailbox is the bedrock.
So, make sure you're signed up for the free newsletter and make use of both Twitter and Telegram – benefit and find out why I'm the most blocked market analyst and trader on Twitter.
Let's move right into the charts (all courtesy of www.stockcharts.com) – today's full scale article contains 2 of them.
S&P 500 and Nasdaq Outlook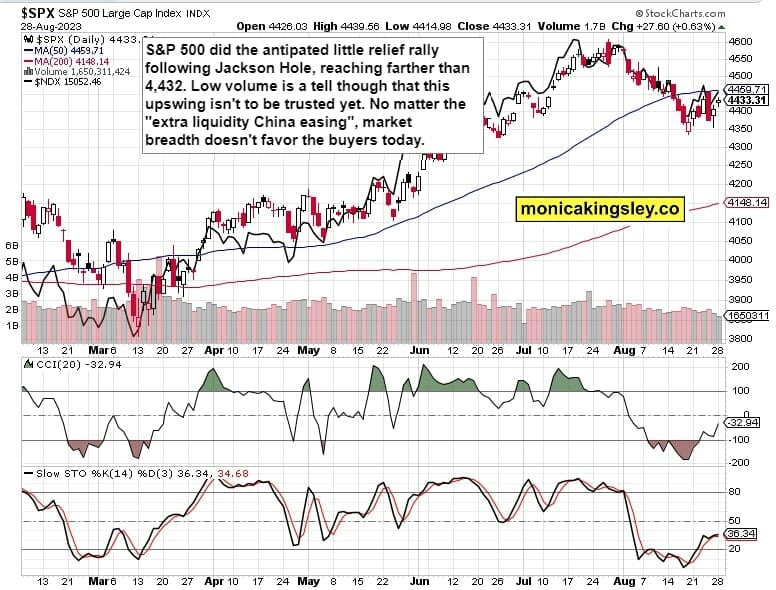 4,447 may be still tested shortly after the open, but I'm looking for financials to lead to the downside. Tech would decide whether 4,415 gets reached today or not, and would lack beehind cyclicals in all likelihood. The theme is one of upside rejection and more selling taking over this week.
Precious metals upswing has a fine ally in the miners that did well yesterday The rally is slowly getting underway (for the weeks ahead), with silver more in a consolidation phase while gold has to break an almost flag-like structure first – and odds are it would, conservatively aiming for $1,980.
Thank you for having read today's free analysis, which is a small part of my site's daily premium Monica's Trading Signals covering all the markets you're used to (stocks, bonds, gold, silver, miners, oil, copper, cryptos), and of the daily premium Monica's Stock Signals presenting stocks and bonds only. Both publications feature real-time trade calls and intraday updates.
While at my site, you can subscribe to the free Monica's Insider Club for instant publishing notifications and other content useful for making your own trade moves.
Turn notifications on, and have my Twitter profile (tweets only) opened in a fresh tab so as not to miss a thing – such as extra intraday opportunities. Thanks for all your support that makes this great ride possible!
Thank you,
Monica Kingsley
Stock Trading Signals
Gold Trading Signals
Oil Trading Signals
Copper Trading Signals
Bitcoin Trading Signals
---
All essays, research and information represent analyses and opinions of Monica Kingsley that are based on available and latest data. Despite careful research and best efforts, it may prove wrong and be subject to change with or without notice.
Monica Kingsley does not guarantee the accuracy or thoroughness of the data or information reported. Her content serves educational purposes and should not be relied upon as advice or construed as providing recommendations of any kind.
Futures, stocks and options are financial instruments not suitable for every investor. Please be advised that you invest at your own risk. Monica Kingsley is not a Registered Securities Advisor. By reading her writings, you agree that she will not be held responsible or liable for any decisions you make.
Investing, trading and speculating in financial markets may involve high risk of loss. Monica Kingsley may have a short or long position in any securities, including those mentioned in her writings, and may make additional purchases and/or sales of those securities without notice.