I woke up a very proud dad.
It was my daughter's first day of kindergarten yesterday. And I'm not afraid to admit I had tears walking her to school in her little green uniform.
The parents seemed more nervous than the children.
"Can you believe the kids are back in school already?" is the go-to ice-breaker when meeting fellow dads.
The end of summer brings big changes for stock market investors, too.
US stocks just suffered their worst month since February. And our research suggests markets could keep sliding throughout September.
I'll share my market script for the rest of 2023 with you today… and where to put new money to work.
It was one of my most controversial calls….
In January, everyone predicted a brutal year for the markets.
Wall Street strategists expected stocks to FALL for the first time in over 20 years!
But I bet against the bankers and recommended buying stocks…
It was the right call.
The S&P 500 surged 20% in the first seven months of the year: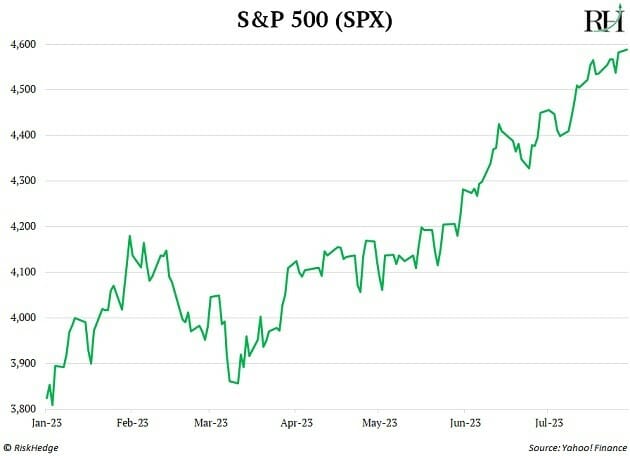 Wall Street strategists have armies of analysts working for them with data coming out their ears.
Yet they expected the S&P to do something almost unprecedented: fall in year 3 of a presidential cycle.
Over 70 years of market data shows us the third year of a presidential term (like 2023) is the strongest year for stocks.
Take a look for yourself. The performance of stocks in "year 3" beats all others by a long shot: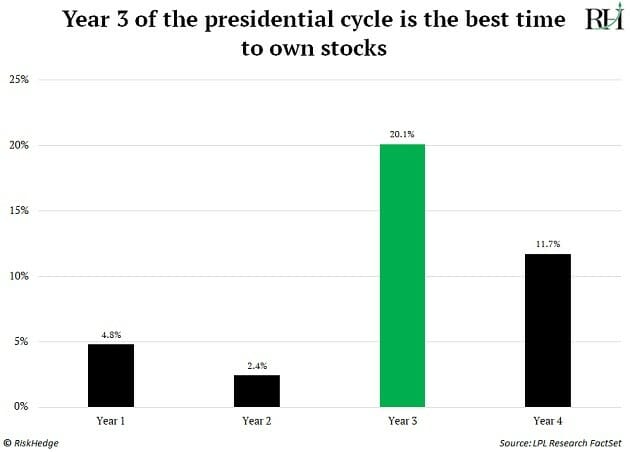 Some folks think making stock market forecasts based on election cycles is voodoo.
But you know me. I've been investing for years, and I don't waste time on anything that doesn't help us make better financial decisions.
And the presidential cycle has been one of the most reliable market indicators.
It's one of the main reasons we aggressively bought stocks in January when Wall Street gurus expected Armageddon.
This chart shows us where stocks are likely headed for the rest of 2023…
The S&P clocked its best start to a year since 1997… then August hit.
Stocks were down as much as 5% at one point last month. But this weakness is perfectly normal for late summer trading when Wall Street is vacationing at the beach.
Remember, the presidential cycle has been one of the best predictors of stock market direction. And now, it's telling us to expect some choppiness.
Check out this chart from my friend JC Parets over at All Star Charts.
It shows the S&P's average performance in every "year 3" presidential cycle since 1950 (blue line) compared to 2023 (red line):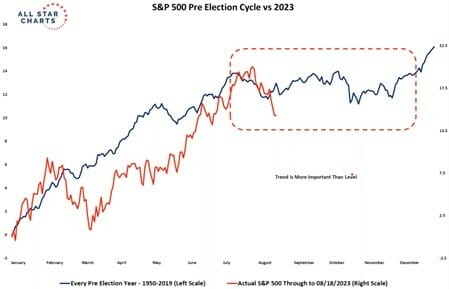 Source: All Star Charts
Stocks typically follow a predictable pattern in "year 3."
They surge in the first half of the year… trade sideways in the late summer and fall… and then rip higher into Christmas.
70+ years of market history suggests we should expect weakness over the coming months. It's perfectly normal for stocks to take a breather here before finishing the year strong.
If markets buck this trend and keep marching higher through the fall, that's important information, too.
It's further proof of the new bull market we've been telling our readers about since last September.
Remember this quote if markets starts to get rocky.
Market sell-offs can be scary.
You must have a plan before the storm hits. Otherwise, you'll likely panic and make wrong moves that cost you money.
Here's our gameplan if markets get a little rocky over the coming weeks: Buy world-class disruptor stocks when they go on sale.
Peter Lynch is on my Mount Rushmore of investors.
If you don't know Lynch, he ran Fidelity's flagship investment fund. In 13 years, he grew the fund from $20 million to $14 billion! Those are off-the-charts returns.
My all-time favorite Peter Lynch quote is: "Behind every stock, there is a company."
Stock prices are schizophrenic. One day they're up, next day they're down.
But remember: When you buy a stock, you own a piece of a company. While stock prices move up and down like a Las Vegas slot machine, companies don't change nearly as much.
That's especially true for great disruptive businesses that thrive no matter what the broader market is doing.
If markets drop, it's a great opportunity to buy world-class disruptors at discounts. That's what I'll be doing in my portfolio.
Consider buying chip giant ASML (NASDAQ:ASML) on any pullbacks.
You should also look at Albemarle (NYSE:ALB), which produces lithium—the critical component for electric car batteries. It's currently trading at its lowest valuation in 25 years!
Article by Stephen McBride, Chief Analyst, RiskHedge
---
To get more ideas like this sent straight to your inbox every Wednesday and Saturday, make sure to sign up for The RiskHedge Report, a free investment letter focused on profiting from disruption.
Expect smart insights and analysis on the latest breakthrough technologies, the big stories the mainstream media isn't reporting on, and much more… including actionable recommendations.