The world is witnessing an electrifying revolution in the automotive industry. Electric vehicles (EVs) have emerged as a compelling solution to combat climate change and reduce our carbon footprint. As more and more individuals and businesses shift towards electric mobility, the demand for efficient and accessible EV charging infrastructure has skyrocketed.
In this fast-evolving landscape, staying ahead of the curve is vital for stakeholders across the EV ecosystem. IDTechEx research dives into the heart of the matter, uncovering three key trends shaping the EV charging market.
800V Batteries and Traction-Integrated Onboard Chargers (iOBCs)
Many EVs have relied on 400V battery architecture, but the future is 800V and beyond. Twice the voltage means significantly faster charging times for EVs. A relatively simple innovation in next-generation vehicle platforms is using the traction high-powered electronics of the EV to double up as a high-power onboard DC charger while the vehicle is stationary. By using the traction power electronics as part of the charging circuit, each vehicle is automatically rated at the maximum C rate of the battery, meaning faster possible charging times can be unlocked.
Some commercial vehicles operating on a higher platform voltage (BYD, ABB/Hitachi) have already successfully demonstrated using the onboard traction inverter as part of the charging circuit. The passenger EV industry has already started to see a mass transition to 800V platforms and traction iOBCs, with many models already available (Hyundai, Lucid) or announced.
By 2026, IDTechEx speculate that a lot of mass-market OEMs will have moved to 3rd generation platforms. Since the drive unit and charging station comprise of similar or identical components, most of the equipment inside the charging station can be made redundant, eliminating unnecessary cost, weight, and public space.
The next generation of charging infrastructure will be able to eliminate all of the unnecessary component duplications currently found in an EV charger and create new infrastructure optimized around DC, including onsite generation and storage. The next generation of EV charging infrastructure will start to look increasingly like a decentralized network of bidirectional DC micro-grids. The latest report from IDTechEx finds EVSE manufacturers launching DC wallboxes in the 20-30 kW range and benchmarks them by power, voltage, current, and weight metrics.
Off-Grid Solar Charging Infrastructure
EV charging in certain environments does not permit any digging – brownfield sites, nuclear waste sites, airports, etc. Off-grid solar charging EV infrastructure can be deployed without digging for foundations or trenching, which means it is an ideal solution for these types of environments. 
Lack of spare capacity on the grid or waiting for infrastructure to be grid-tied can be serious bottlenecks in deploying standard EV chargers, creating a demand for off-grid solutions. IDTechEx Research finds off-grid solar charging companies coupling their sun-tracking solar canopies with onsite battery storage to offer a portable solution.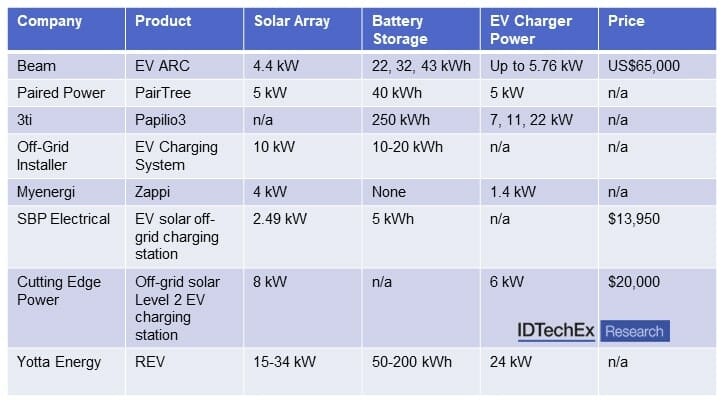 National Electric Vehicle Infrastructure (NEVI) Formula Program in the US
On February 15, 2023, the Federal Highway Administration (FHWA) and the Biden Administration announced standards for chargers purchased and installed with NEVI funding. This includes predictable charging (consistent plug types, power levels), reliability requirements (97% uptime minimum), Accessibility, and Plug & Charge capability. In addition, chargers must also meet Buy America standards with local manufacturing of most of the components initially with tighter control over time.
NEVI is accelerating EV charging infrastructure rollout in the US, but the market is just at the beginning of the rapid growth curve. Many states are just getting started with their NEVI programs, and most won't be ready to install chargers until later in 2023. IDTechEx predict that NEVI chargers will start to be deployed en masse in 2024. IDTechEx finds multiple EVSE manufacturers setting up domestic US manufacturing facilities to comply with the Buy America standard and reduce time to market as the US public charging market expands.

DC fast charger (in the 24-350 kW range) installation is outpacing the growth of level 1 and 2 AC charger installations in the US. The number of EVSE ports with a power output between 250 and 349 kW grew by the largest percentage in 2022 overall. This growth can be attributed to the addition of new Tesla Supercharger installations with a power output of 250 kW.
The growth in higher power level fast charging infrastructure (>349 kW) is primarily attributable to new Electrify America, EVgo, and Rivian Adventure Network installations. AC chargers still dominate public charger installations in the US, but the share of DC chargers is forecasted to rise gradually to serve the needs of interstate travelers.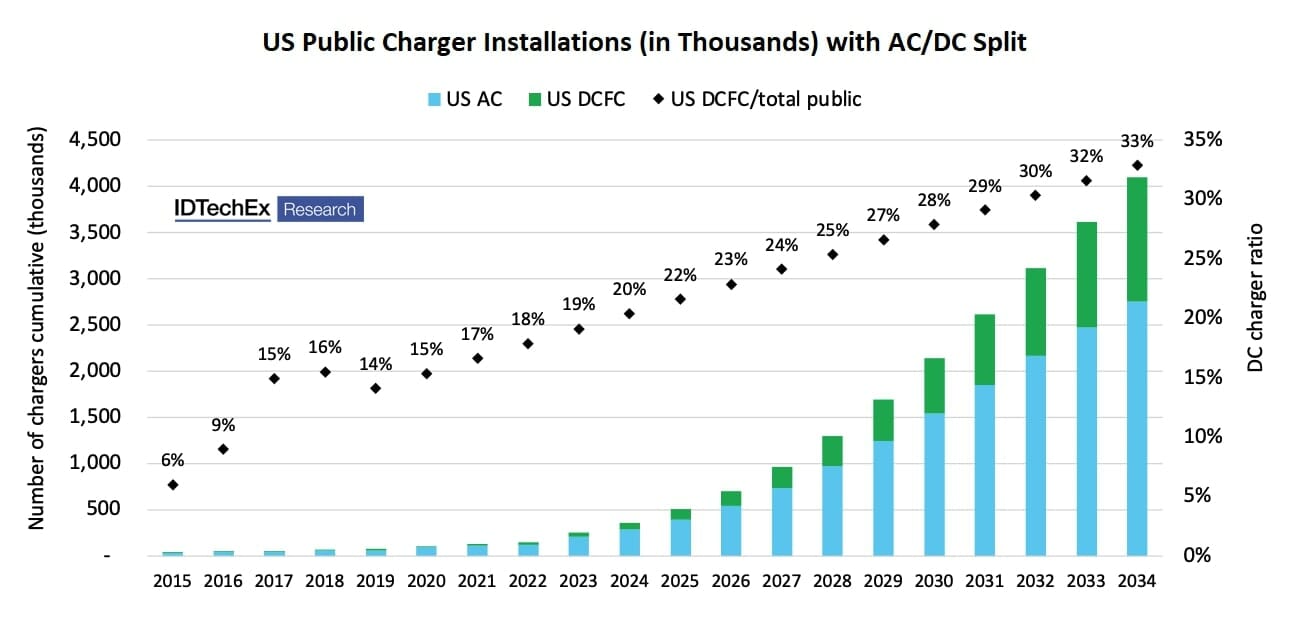 In conclusion, these trends in the EV charging market are paving the way for a transformative future of electric mobility. Witness the rise of faster and more efficient charging solutions, unlocking new possibilities for electric vehicle adoption on a global scale.
The transition towards higher voltage architectures promises enhanced performance and reduced charging times alongside supportive regulatory initiatives that support the deployment of fast chargers. The IDTechEx report on the EV charging market, "Charging Infrastructure for Electric Vehicles and Fleets 2024-2034", includes 10-year granular forecasts by technology (AC/DC split), power class, and key regions.
For more information about this IDTechEx report, including downloadable sample pages, please visit www.IDTechEx.com/EVCharge. You can see the full portfolio of IDTechEx research on electric vehicles at www.IDTechEx.com/Research/EV.
---
About IDTechEx
IDTechEx guides your strategic business decisions through its Research, Subscription and Consultancy products, helping you profit from emerging technologies. For more information, contact research@IDTechEx.com or visit www.IDTechEx.com.