Today FXC Intelligence published a

deep dive report

into TikTok and payments.

There are a limited number of ways for creators to receive payouts on TikTok, with the platform relying on third-party payment providers, leading to what can be a lengthy and cumbersome payout process.

The social media giant faces stiff competition in SE Asia, where it is looking to expand its ecommerce reach.
How Payments Work On TikTok
Today, FXC Intelligence published a deep dive report into how payments work on TikTok compared to other platforms, as well as where the company's ecommerce strategy will take it in the near future.
Tiktok is a hive of payments activity, with huge volumes of payments passing from users to creators and merchants on the app everyday.
There are a number of ways that creators can make money on TikTok, including the TikTok Creator Fund, the Creator Marketplace, affiliate links, LIVE gifts, rewards and TikTok Shop.
Similar to other social media platforms, creators can receive payouts in only a limited number of ways on TikTok, with this often depending on the region where the creator is located, as well as the source of the funds that are being paid out. For example, while TikTok tips are paid using Stripe, payouts for LIVE gift balances are for the most part paid to PayPal wallets or to a linked bank account.
Generally there seems to only be a limited number of payment methods to actually cash out on rewards, with these usually coming with a minimum payout requirement. In Tiktok's case, the minimum withdrawal limit for its Creator Fund is $10. However, for its livestream rewards system, minimum amounts vary depending on the region and payment method. For PayPal users in the EEA, UK or Switzerland, for example, the minimum amount that they can withdraw is $1, while for bank transfers in the UK the minimum amount is equivalent to $9.
Joe Baker, Senior Copywriter and author of the report said:
"Billions of dollars pass through TikTok year-on-year via a wide variety of revenue streams. Using third party payment providers to facilitate payouts is subjecting creators and merchandisers to lengthy processing times and uncertain payout schedules.
"With the sheer volume of payments happening through the app everyday, It could make sense for the platform to develop more of its own payments technology, rather than relying on third party payment providers – particularly if it can make payments more streamlined, faster and more convenient for creators and merchants."
When it comes to TikTok's ecommerce arm, TikTok expects growth to be driven by Southeast Asia this year, with Bloomberg reporting in June that the app aims to quadruple the size of its global ecommerce business to reach $20bn in merchandising sales this year. However, it faces stiff competition from other competitors in the region: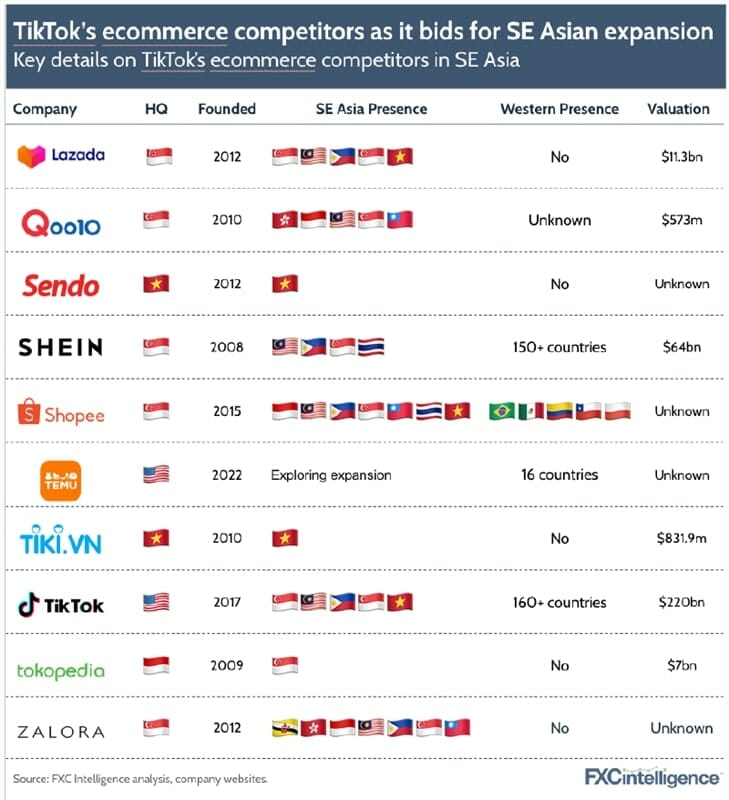 Since being launched in 2021, TikTok Shop has seen varying success in regions around the world. In Indonesia, it has grown substantially, becoming the fifth largest ecommerce platform in the country (according to Singapore-based research firm Momentum Works) and holds a 5% market share in the country's ecommerce business. This still pales in comparison to leaders Shopee (36%) and Tokopedia (35%).
According to TikTok, users are reportedly 1.5 times more likely to go out and buy something they discovered on the platform compared to other platform's users.
When looking at the use of the #TikTokmademebuyit hashtag, the number of views of videos grew by around 220% to 67 billion YoY in August 2023, indicating the increased use of this hashtag on videos and the extent to which TikTok is growing as a platform that actually drives purchases.
TikTok is attempting to capitalise on a Western ecommerce opportunity that has already been jumped on by other Chinese companies. However, TikTok still struggles with its association with China, and while the move to sell Chinese-made products at lower prices has been successful for other ecommerce companies, it would be for nought if countries decided to ban the app. A number of countries – including the US, Australia and Canada – have banned the use of TikTok on government devices, while India banned the app entirely in 2020, saying that it aimed to "protect the data and privacy of its 1.3 billion citizens".
---
Further information
To read more about TikTok's payments strategy, read FXC Intelligence's report

here

.
FXC Intelligence is the industry leader in cross-border payments data and intelligence. Our data is used by a number of intergovernmental bodies, including the World Bank and the Financial Stability Board.
The world's biggest banks, payments and big tech companies use our critical data to make vital decisions that shape their day-to-day operations, product development and strategy.
We track pricing, market size and product changes as they happen and update our dataset at high frequency, giving our clients the competitive edge they need to stay on top in a rapidly changing market.
Our clients can also access datasets on card and ecommerce pricing. We also provide cryptocurrency costs and market data in recognition of its growing significance in the global payments mix.
Our data gives us a unique understanding of cross-border payments, and we share our analysis and insights every week with subscribers to our newsletter, the most widely read in the cross-border payments market globally. Interested and want to find out more? Sign up to our newsletter here.