Yesterday's JOLTS stunner not only didn't paint the picture of economic acceleration (my humble prediction), but showed strong job market deterioration. Together with the more than five non-farm payrolls revisions to the downside, it invited a sharp retreat in yields triggering rush to Big Tech safety.
Right or wrong as stocks cut through 4,465 in no time, that allowed for quick recovery in Intraday Signals while 4,485 resistance was hanging in the air. 4,508 level was reached,, and the next 4,515 resistance stopped the buyers premarket.
Market is focused on Fed easing now, and with yields retreating (I still say 10y very solidly below 4%), the forward earnings repricing angle in stocks has to wait. What's though suspicious, is that financials didn't take a better advantage yesterday. Concluding with yesterday's premium thoughts – the question mark is where do stocks start to reflect worsening underlying landscape, and tech not being a safe haven. Also, the most reliable plays remain precious metals at the moment,
Anyway, as today's title suggests, I think that yesterday's gains would be getting dialed back, starting today.
Keep enjoying the lively Twitter feed via keeping my tab open at all times (notifications on aren't enough) – combine with subscribing to my Youtube channel, and of course Telegram that always delivers my extra intraday calls (head off to Twitter to talk to me there), but getting the key daily analytics right into your mailbox is the bedrock.
So, make sure you're signed up for the free newsletter and make use of both Twitter and Telegram – benefit and find out why I'm the most blocked market analyst and trader on Twitter.
Let's move right into the charts (all courtesy of www.stockcharts.com) – today's full scale article contains 3 of them.
S&P 500 and Nasdaq Outlook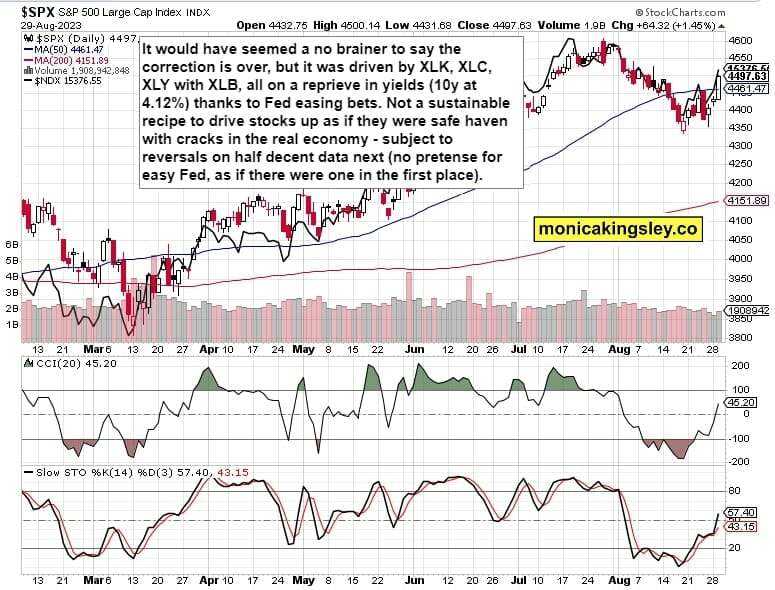 4,529 – 4,535 area won't be reached, and fresh selling is likely to take over, affecting also tech even if yields retreated. Cyclicals and value with smallcaps surely won't like this real economy deterioration – 4,515 remains resistance, reaching 4,492 is the accelerator to breaking down towards 4,465, which though isn't overwhelmingly likely to happen today. See this tweet about DIS to check how discerning the market is, even if euphoric overall. The price action in the opening 15min though suggests that buyers want to have a go at 4,535 ultimately, still today.
Gold, Silver and Miners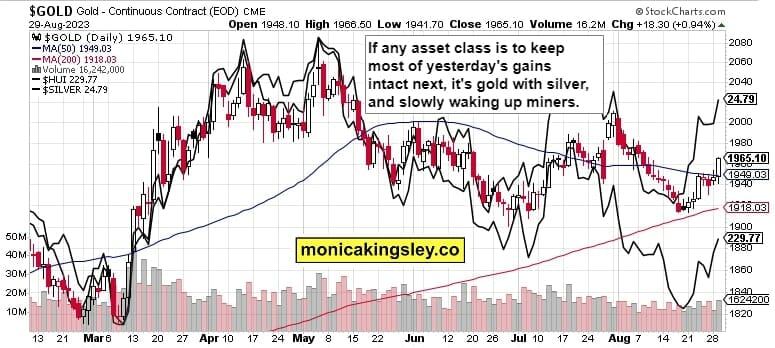 Precious metals remain the most reliable performers, and a test of $1,980 is slowly but surely approaching – powered by retreat in yields more so than gyrating dollar. Even the hot silver is still a buy here.
Thank you for having read today's free analysis, which is a small part of my site's daily premium Monica's Trading Signals covering all the markets you're used to (stocks, bonds, gold, silver, miners, oil, copper, cryptos), and of the daily premium Monica's Stock Signals presenting stocks and bonds only. Both publications feature real-time trade calls and intraday updates.
While at my site, you can subscribe to the free Monica's Insider Club for instant publishing notifications and other content useful for making your own trade moves.
Turn notifications on, and have my Twitter profile (tweets only) opened in a fresh tab so as not to miss a thing – such as extra intraday opportunities. Thanks for all your support that makes this great ride possible!
Thank you,
Monica Kingsley
Stock Trading Signals
Gold Trading Signals
Oil Trading Signals
Copper Trading Signals
Bitcoin Trading Signals
---
All essays, research and information represent analyses and opinions of Monica Kingsley that are based on available and latest data. Despite careful research and best efforts, it may prove wrong and be subject to change with or without notice.
Monica Kingsley does not guarantee the accuracy or thoroughness of the data or information reported. Her content serves educational purposes and should not be relied upon as advice or construed as providing recommendations of any kind.
Futures, stocks and options are financial instruments not suitable for every investor. Please be advised that you invest at your own risk. Monica Kingsley is not a Registered Securities Advisor. By reading her writings, you agree that she will not be held responsible or liable for any decisions you make.
Investing, trading and speculating in financial markets may involve high risk of loss. Monica Kingsley may have a short or long position in any securities, including those mentioned in her writings, and may make additional purchases and/or sales of those securities without notice.