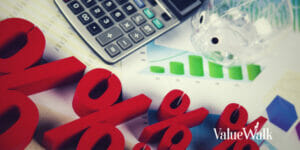 Federal Reserve expected to raise US interest rates
Weak German market is holding Vodafone back
GSK plc has a confident, positive outlook
Another month of losses for UK Housing
Rising US Interest Rates
All eyes will be on Wall Street later today, when the Federal Reserve meets to decide the next move for US interest rates. Pretty much everyone is forecasting a further hike in rates to be announced. The key may well be what the Fed says, rather than what it does.
Q4 2022 hedge fund letters, conferences and more
Inflation has been falling for a while now in the USA and many analysts believe this will be the last increase, to be followed by a lull before the Fed then moves to begin cutting rates later this year. A lot of money rides on this so-called "Fed Pivot".
Whether it happens depends on where inflation goes from here. Economists did not do a great job predicting the scale and duration of post-pandemic US inflation, but for what it is worth, most seem to expect it to continue to fall from here.
From what Fed members have been saying, it does look likely that after the shock and awe of seven hikes, adding 4.25% to interest rates in under a year, the Fed is now ready to slow the rate of increase. A rise of 0.25%, taking the Fed Funds rate to 4.75% looks to be the markets' working assumption.
Whether that will be enough to pacify the more hawkish members of the Fed remains to be seen. After all, if the Fed wants the markets to sit up and listen when it talks, it has to show that it is prepared to play roughly.
Markets will likely take any hints that this is the last hike positively, whilst threats of further hikes to beyond 5% are unlikely to be welcomed by investors. Any commentary on the necessary requirements to be met before rates can start to fall will be read avidly by market strategists.
The USA is too big to ignore, but it is not the whole world and the data from Europe has been stronger than expected. The eurozone reported growth in the final quarter of 2022, despite economists predicting a fall.
China too looks set to report stronger growth ahead, after dropping zero Covid policies. This all matters because bullish scenarios for markets in 2023 require that inflation fades back down toward the 2% rate that central banks like the ECB and the Bank of England target.
Vodafone Being Held Back By A Weak German Market
Europe as a whole might have kept its momentum in Q4, but a weak German market is holding Vodafone Group plc (LON:VOD) back. Their Q3 FY23 trading update shows weakness in the German market holding back an otherwise improving story.
Service revenues showed organic growth, excluding currency impacts, or 1.8%. But the group would have reported double that had Germany not seen revenues slip due to customer losses. CEO, Margherita Della Valle said that the group was maintaining its full year targets, but that the weak result in Germany showed the group could do better.
Vodafone are halfway to identifying their €1 billion cost savings and have moved 8 European markets to inflation-linked pricing models. The market was underwhelmed, with the shares slipping 1% at the opening.
GSK's Earnings
It's a much brighter picture coming from GSK plc (LON:GSK) today though, with the stock pushing 1.5% ahead in reaction to their full year release. GSK, or Glaxo as market greybeards still know it as, reported underlying sales growth of 13% for the year just ended. Currency moves pushed the reported numbers up even higher.
Growth was driven by specialty medicines, up 29% and HIV treatments, 12% higher. The rest of the portfolio saw strong gains also from oncology and immuno-inflammation treatments. Blockbuster shingles vaccine, Shingrix was the star of the show, delivering £3bn of sales, up 72%. The group currently has a pipeline of 69 treatments, 19 of which are in late-stage trials.
Underlying earnings jumped by 18% to 110.8p. Emma Walmsley, CEO described 2022 as a landmark year, which witnessed the demerger of Haleon and the growth of Shingrix. GSK is well set to meet its five-year growth targets to 2026, said Walmsley and the pipeline should deliver growth beyond then.
It has been a long time since GSK has been able to offer such a confident outlook. A key hurdle will be whether GSK's new RSV vaccine wins approval, with a decision by the FDA expected later this year.
Slipping UK House Prices
According to the Nationwide, the UK housing market is now in its longest slide since 2008, with the UK average house price slipping again last month, following on from a revised fall of 0.3% in December to leave prices almost unchanged over the last year as a whole.
Mortgage rates have eased in recent weeks after surging in the autumn when the Government sent markets into a spin with the now infamous mini-budget. But affordability remains stretched according to Nationwide chief economist Robert Gardner.
With the Bank of England set for a tenth consecutive rate hike later this week, that affordability issue is likely to remain on the table a while longer. Nationwide say that current mortgage rates leave the cost of servicing a typical mortgage as a share of take-home pay is now at or above the long-term average in all regions of the country.
Article by Steve Clayton, head of equity funds at Hargreaves Lansdown